What's better than a once-in-a-lifetime cruise to the Galapagos Islands? Sleeping under the spectacular night skies in one of the most remote places in the world on the deck of a ship that's the height of modern luxury.
The Celebrity Flora is a first for the cruise line, dedicated to exploration of the natural wonder of the Galapagos islands. The ship launches in May, 2019, and is based on the island of Baltra in the Galapagos.
100 privileged guests at a time will experience
the Galapagos islands
in the Flora's all-suite environment. In addition to the stylish design, dining, cocktails and onboard signature Celebrity Cruises lifestyle, this exploration ship is designed specifically for the best possible Galapagos luxury experience:
innovative, outward-facing design providing 360-degree views of the islands, open air lounges with hot tubs and cabanas with a view,
expert-led ecological seminars,
seamless sea-to-shore transportation in yacht tenders off the open marina at the ship's aft,
environmentally-conscious features like extreme energy efficiency and anchorless technology to protect the sea floor, and
an open-air stargazing platform on the top deck.
That's where Celebrity has crafted a whole new Galapagos cruising experience: 'glamping' (glamorous camping) with the Galapagos' brilliant night sky and millions of stars above.
It's a one-night experience you'll never forget. Four guests each night will be able to reserve the experience that includes two cabanas with deluxe appointments, one with a bed for sleeping, the other for dining alfresco with curated cocktails, wines, even campfire favorites like s'mores under the stars. And a naturalist is available to point out stars and constellations as seen only from this part of the world. The magical overnight experience concludes with sunrise and a full bed-side breakfast. Glamping under the stars isn't a one-time PR stunt –it's a full-time part of Celebrity's Galapagos experience.Guests on every sailing of the Celebrity Flora on her 10- or 11-day tours as well as 16-night inner plus outer loop Galapagos itineraries can reserve Glamping under the stars on the top deck to add another unforgettable experience to their bucket-list travel to these remote islands and natural wonders.
Start your Trip!
Copyright BestTrip.TV/Influence Entertainment Group Inc or Rights Holder. All rights reserved. You are welcome to share this material from this page, but it may not be published, broadcast, rewritten or redistributed.
Laos may be one of the last, best-kept secrets in South-East Asia. Now, travelers looking for an immersive vacation in the unspoiled environment, unique culture and French-Laotian heritage of Laos have the perfect ultra-luxury destination: the tented villas of the new concept Rosewood Luang Prabang.
It's Rosewood's second resort in Southeast Asia – and its very first world-wide to feature tented villas.
It's a dream 'glamping' (glamorous-camping) destination. Luang Prabang is a UNESCO World Heritage site in the heart of Laos, where the mighty Mekong and Nam Khan rivers meet. It's the ancient capital and current cultural center of Laos; surrounded by misty mountains with waterfalls and pools of water in the forest, countless temples and a lifestyle true to both traditional Laotian and colonial French culture.
The Rosewood Luang Prabang fits right into this idyllic escape. Nestled in untouched forest just outside the city, the resort is harmonized with the terrain, centered around a natural waterfall and river.
Its designer was inspired by the tradition of Laotian hill stations, a French colonial tradition where gracious hosts welcomed travelers to the remote corners of Laos.
Sleep: River, Forest, and Tented Villas
The resort still retains that feel of intimate but luxurious isolation in a dense, tropical forest. 23 accommodations meld into the terrain adjacent to a river or waterfall, or float above the ground amongst the treetop foliage. Some have private swimming pools, oversized balconies and outdoor wooden bathtubs. There are 6 tented villas.
That already makes them one of a kind. But each space also has its own unique design, evoking French-Indochine ambiance and hospitality with original artifacts and antiques of bygone Luang Prabang.
Tented Spa Villas with Traditional and Holistic Wellbeing Programs
Even spa services take place in the other-worldly environment of 3 tented villas in a peaceful corner of the property overlooking the river. All mind and body therapies draw from nature, and guests are guided to select herbs and plants from resort gardens for tailor-made treatments. In addition to Western techniques, nearly lost local healing practices have been resurrected and are provided by a respected local healer using ingredients he forages in the surrounding forest.
The wellness program also offers holistic experiences and retreats.
Dining in a Laotian Forest
Farm to table? How about forest to table. Or fishing boat to table. Dining at the resort reflects the harvest at hand: local farmers, fishermen and foraging, transformed into authentic local cuisine and even dishes influenced by historic Laotian royal court entertainment.
There are two dining venues: Laotian farm-to-table restaurant called The Great House and a relaxing river-view spot with the evocative name The Elephant Bridge Bar for light bites and hand-crafted cocktails with a tropical flair and local botanicals and spices. But reflecting the fluid arrangements of tents, villas and other buildings on the resort by the river and in the forest, guests also have the option of poolside dining, from sunbeds, cozy cabanas or breezy tables on the terrace, even custom-designed meals served at scenic places on the grounds – the ultimate luxury picnic!
Play and Explore
The leafy tropical environment surrounding the Rosewood Luang Prabang is ideal for relaxation and activity on and near the resort. In nearby gardens, you can enjoy classic games of petanque or croquet. A forest-enclosed swimming pool is next to a natural waterfall – not to mention the famous nearby waterfalls and series of natural pools in the forest that are one of Luang Prabang's claims to fame.
In addition, the resort creates customized experiences for guest interested in immersing themselves in local Lao culture: local traditional artisans, ethnic hill-tribes and farming communities, historic mansions, ancient Laotian temples, and lifestyle of the communities along the Mekong river. Adventurous and hands-on travelers can trek through the forest and forage for a meal prepared with those ingredients, take a guided mountain bike tour through remote landscapes, weave textiles or form ceramics, harvest seasonal produce alongside local farmers, or take an elegant Laotian river boat cruise along the Mekong.
Giving Back
Rosewood Luang Prabang is also the site of the first hospitality school in Laos, a philanthropic project providing students with professional hospitality training.
The Rosewood Luang Prabang is not only one of the most truly one-of-a-kind resorts you will ever stay in Asia or the world; it's also on the ground floor of a growing interest in travel to this fascinating and evocative country.
Start your Trip!
Copyright BestTrip.TV/Influence Entertainment Group Inc or Rights Holder. All rights reserved. You are welcome to share this material from this page, but it may not be published, broadcast, rewritten or redistributed.
Two hundred years ago, Europeans started referring to the region between India and China as Indochina.
Already, it was recognized as one of the most beautiful, exotic, culturally unique destinations on the planet. With its very strategic position, Indochina was also center-stage in some of the defining conflicts of the 20th century including the Pacific theater of WW2 and the Vietnam War.
Fast-forward to today, and the legendary countries of South-East Asia - SEA for short - are magnets for travelers by land and sea. Dense tropical jungles and one-of-a-kind plants and wildlife, fabled rivers and waterways, beloved cuisine, some of the world's most beautiful beaches, mountains tiered with rice terraces, gilded temples and Buddhist monks, dizzying markets and spectacular sunsets are hallmarks of these nations.
The term Indochina, or the French Indochine, is still used particularly to refer to traditional or colonial culture in the region, which you'll still find preserved in these rapidly-growing economies and modernizing nations.
Lynn Elmhirst, producer/host of BestTrip.TV shares the must-see sites in the 7 SEA countries:
Thailand
This nation tops nearly everyone's SEA travel bucket list, from backpackers to those in search of 6-star luxury exotic escapes. The Land of Smiles is a smorgasbord of South-East-Asian culture. You won't want to miss Thai cuisine at the source in fabulous restaurants or from street vendors or markets. There are 40,000 temples in this kingdom, including one containing the world's largest solid gold Buddha in Bangkok.
The capital is firmly in the world's top-three global travel destinations every year, and also home to floating markets, tuk tuk taxis, royal palaces and massive shopping malls. Thailand's rural attractions include jungles and elephant sanctuaries, legendary beaches and island destinations like Phuket, Koh Samui, the famous Sunset Beach on Koh Kradan and the Golden Swan Temple (pictured top).
Watch Video: The Real Name of the Capital of Thailand… is Not Bangkok
Vietnam
The tragedy of the Vietnam War is in the past for modern Vietnamese who are among the warmest people in Asia, if not the world. The still-communist country welcomes growing numbers of American and Western visitors. Many travelers – especially Americans - find it hard to believe the country permits and even promotes interest in Vietnam War-era sites like tours to the Viet Cong's legendary Cu Chi tunnels near Ho Chi Minh City and the famous American R&R China Beach near Danang. Everyone visits Ho Chi Minh (HCM) City and its ornate, French colonial public buildings, famous historic hotels and the top-ranked Saigon market. But don't miss other cities in Vietnam like historic imperial Hue and the ancient canal town of Hoi An – stay in town long enough to have some custom-tailored clothing made!
An day trip or even a journey on the mighty Mekong river, with its floating markets, and entire communities is unforgettable. And UNESCO World Heritage site Halong Bay's emerald waters and mystical islands are a traveler's dream.
Watch Video: Kayaking in Mystical Halong Bay
Laos
This is the only land-locked nation in Indochina, and perhaps that's why it's later to the tourism party than other SEA countries. For many travelers, the path least traveled is exactly where you'll want to go next.
The highlight of any trip to Laos is Luang Prabang. This UNESCO World Heritage Site has been inhabited for thousands of years, nestled in a valley where the mythical Mekong and Nam Khan rivers meet. Luang Prabang is a cultural and religious center with historic temples, serene Mekong river scenery, the magical Kuang Si waterfalls with its series of swimming holes, falls and ideal picnic sites, and even an Asian black bear rescue center.
Cambodia
For travelers, Cambodia's has two claims to fame: one joyful, the other very dark. Travelers to neighboring SEA countries take trips into Cambodia solely to visit iconic UNESCO World Heritage Site Angkor Wat. This 12th century temple is part of the largest religious monument in the world – a 400-acre complex isolated by a dramatic moat that is a top global bucket list destination.
Equally compelling but difficult to experience are the museum and sites associated with the Khmer Rouge genocide known as The Killing Fields. But there's more to experience in the capital Phnom Penh: Cambodia's position where Mekong and Tonle Sap rivers meet made it the natural center for both Khmer and French colonial regimes. Today, its busy riverfront, art deco market, Royal Palace and Silver Pagoda make it worth an extended stay to explore.
Myanmar
The country formerly known as Burma is fast becoming a country that adventurous travelers want to see before the tourist scene gets very busy. The capital city Yangon is home to ancient Buddhist sites, including the oldest pagoda in the world. The Shwedagon pagoda dates back 2500 years, and is the national symbol and holy site of the nation.
Outside the capital you'll find one of the world's greatest archaeological wonders: the 2300 pagodas and temples on the plains of Bagan. You can even get an overview of the entire complex on a hot air balloon ride. Inle Lake, surrounded by misty mountains, is a time capsule of local people who still live with the land in stilt houses, with floating gardens and a famous fishing technique. Rudyard Kipling coined the phrase 'Road to Mandalay' to refer to the majestic Irawaddy River. Some major cruise companies offer river cruise tours on this exotic waterway.
Malaysia
Mainland Malaysia occupies the southern end of the SEA peninsula, as well as parts of the nearby island of Borneo. The wilderness is famous for wildlife reserves protecting endangered orangutans, tigers, rhinos and elephants, the beaches of Langkawi, and storied tribes of head-hunters whose villages on stilts over rivers in Borneo you can still visit. Cooler Cameron Highlands are home to tea plantations where you can do a tasting tour. Colonial European heritage landmarks include the sites in colorful Malacca, and Penang's landmark Eastern & Oriental hotel – a sea front sister hotel that pre-dated the famous Raffles in Singapore.
Don't skip Malaysia's ultra-modern capital Kuala Lumpur. KL is a fascinating vision of the future of SEA, not to mention the record-breaking Petronas Twin Towers connected by a sky-high bridge that's featured in action films and many an Instagram post.
Singapore
This city-state and global financial center at the end of the Malaysian mainland is the only island nation of SEA. Singapore has preserved a core of its colonial past, with high rises surrounding the historic cricket field and colonial buildings, including nearby, one of the world's most famous historic hotels. Legends are still told of the early days of the Raffles Hotel and the Long Bar, where the Singapore Sling was invented. Take time to wet your lips with one of the world's most famous cocktails and soak up the bygone atmosphere.
But Singapore is more famous now for its almost surreal ultramodern vision and skyline. The symbol of modern Singapore is the already-iconic Marina Bay Sands Hotel and Casino's three-pillar towers topped by a surfboard-like top floor with the world's largest infinity pool overlooking the city. The 250-acre Gardens by the Bay, with the grove of futuristic super trees takes Singapore's love of green space to a space-age level. Singapore is a popular SEA cruise port of embarkation/ debarkation, and well worth extending your trip pre- or post- cruise to explore.
Indochina is no longer a place on a map – but it's still one of the world's top travel destinations.
Start your Trip!
Copyright BestTrip.TV/Influence Entertainment Group Inc or Rights Holder. All rights reserved. You are welcome to share this material from this page, but it may not be published, broadcast, rewritten or redistributed.
If you're trying to come up with the perfect family vacation for the holidays, time to think about cruising.
Whether you are new to cruising or a seasoned sailing family, here are 5 tips to ensure every member of the family has a fun, memorable… and relaxing holiday.
By: Lynn Elmhirst, Producer/ Host and cruise expert, BestTrip.TV
1. Location, location, location.
Pick your family cruise destination first, and make sure every family member will have something to be excited about. A cruise is one of the best ways to introduce the family to Europe, to reach exotic destinations like the Galapagos, or see the world closer to home. (Top image: Families in awe of the Hubbard Glacier in Alaska on a Regent Seven Seas Cruise. Watch the video!)
Can you drive to a major cruise port? Ships embark from cruise ports along all coasts of North America, from Montreal, out the St. Lawrence and down the East Coast, southern ports in Florida, Louisiana and Texas, and up the West Coast from San Diego all the way to Vancouver. From these home-grown ports, cruising families can enjoy Canada and New England cruises, Bahamas/Caribbean/ Panama canal cruises, Mexico and Western Caribbean cruises, Pacific Northwest and Alaska cruises (like the Regent Seven Seas Cruise to Alaska pictured, top), and West Coast/ Baja, South America and even Hawaii cruises.
If you drive to the port where your ship round-trips, a family can save a lot on flights… and use those savings on their family cruise vacation to upgrade a stateroom category, treat yourselves to more shore excursions, even take other members of the family along too and make it an extended family get together.
2. Find the perfect cruise ship match.
Mega-ship or small ship? It depends on your family, and a good travel advisor will consult with you to find your perfect family cruise. There are enormous cruise ships that are destinations in themselves, floating theme park resorts. And for some families, they are perfect holiday destinations, with more round-the-clock adventures, activities, pools, sports, dining and entertainment than the family can even experience in a week or 10-day cruise. With social clubs for kids of all ages right through to the sedate activities many grandparents enjoy, these ships are crowd pleasers.
(Waterslides on Royal Caribbean's Symphony of the Seas)
But they are not the only options. If the kids in your family don't need non-stop activities, if you are more interested in authentic destination experiences, medium and smaller-sized ships including expedition and luxury ships - even river cruise ships - might be the best fit for your family. Smaller ships and expedition ships may not have the whirlwind of activities and entertainment of the biggest ships, but they can dock in more out-of-the-way places, and the atmosphere on board is quieter for families who make their own fun.
3. Book and pre-pay for as much as possible.
Your travel advisor can help match you to your best cruise options that have the best value for the best type of cruise experience for your family. That may involve packaged, pre-paid or included things like tips, drinks packages, shore excursions, even flights. Generally speaking, pre-paying gives you the best value for money. As an added bonus, you'll worry less about tracking your vacation spending budget while you are on holiday – and be more likely to avoid going over-budget.
Pre-booking ensures you'll also be able to enjoy a ship board experience on your first preference of day and time. Spa appointments and specialty restaurants can book up before guests even board the ship. So pre-book parents' date night or someone's birthday or anniversary dinner before you board.
The same advice goes for shore excursions. If there's an experience at a port of call that's the highlight of the family cruise vacation, booking that zip line adventure, wildlife tour, catamaran or cooking class ahead will ensure you avoid disappointment.
(Beach day on Holland America Line's private island in the Bahamas)
4. Give kids some independence – and give parents a break.
One piece of advice parents regularly come back to thank me for is that I recommend families take walkie-talkies. One could be for the parents, the other for older (tween/teen) kids. This gives kids the run of the ship to enjoy their own interests, and still be in contact with parents. Or divided between different family groupings so there's maximum freedom to break into smaller family groups and also easily check in, plan meeting places, get together for a swim, lunch, or another whole-group activity…
Pre-paid drinks packages also enable kids to serve themselves without tracking down an adult or running up a surprise tab.
Since cruise ships are self-contained, they are among the safest family travel destinations for families to enjoy their own interests in the same space. Nothing says 'vacation' like parents lounging by the pool knowing the kids are safe and having a great time on their own.
5. Look into and take advantage of on board services.
This is part of the essential cruise match-making process your travel advisor can help you with. Cruise lines are innovators in keeping kids entertained. They've developed partnerships with kids' favorite characters and movies. And many offer clubs and daycare for kids of all ages – some even for babes-in-arms that make cruises great 'babymoon' destinations. So even if your kids aren't old enough to enjoy the ship's activities on their own, ask what options are for kids of all ages.
It's a great way to change up the pace for every member of the family, from time spent with different members in different experiences.
Cruises make some of the best family vacations that provide lifelong memories and maximum family time. Parents only have to pack and unpack once while the family gets to enjoy multiple destinations and vacation experiences together. With these tips, your next family cruise vacation will be your best holiday together yet!
Start your Trip!
Copyright BestTrip.TV/Influence Entertainment Group Inc or Rights Holder. All rights reserved. You are welcome to share this material from this page, but it may not be published, broadcast, rewritten or redistributed.
Vegan travel can be a challenge. In some favorite destinations, a bag of nuts in your bag at all times is essential to keep hunger away while you enjoy the attractions.
Epicurean vegans can be even more frustrated. Surrounded by the sights, scents of produce and flavors of the local culinary culture… and unable to enjoy it while practicing a plant-based diet. In some of the most famously foodie destinations in the world, you find yourself eating to live, not living to eat the local cuisine at the source.
But now, one tour company is out to give vegans the food adventures of their lives. Intrepid Travel, the small group, responsible-travel company, has launched a series of vegan food adventures for the committed vegan, vegetarian, or vegan-curious traveler.
With a local practicing vegan or vegetarian to lead the small group, travelers experience the best of the destination as well as get the inside track on local, authentic vegan lifestyle.
Epicurean vegans can now participate in market visits, cooking classes, top restaurants… all oriented around veganism. And in some of your dream destinations:
India, with a long culinary history of forgoing animal products, is already a vegan heaven. The sights of India's Golden Triangle are combined with vegan street food like vegetable samosas, vegan cooking classes, and a vegan feast in the opulence of a local castle.
South-east Asian cuisine, that incorporates soy protein along with those unmistakable spices, also makes Thailand very hospitable to vegans. There's a diverse range of vegan culinary offerings including street food at a Bangkok railway market, a masterclass in vegan Thai cuisine, that starts with a market visit to select your produce, and plenty of opportunities to tuck into delicacies including red curries, coconut cream and even traditional Thai banana cake.
Intrepid's most unlikely vegan food adventure destination? Italy. The land where every area has its own regional cured meat. And cheese. This vegan food adventure travels from Venice to Tuscany to Rome – in a unique opportunity to experience a different side of Italian epicurean genius. Enjoy the epitome of Italian old-school dining and a superb vegan menu in Venice's first vegan restaurant. The famously foodie town of Bologna comes alive with a vegan market tour and cooking class. And you can tease your palate with a wine tour in Tuscany, where you stay in an all-vegan villa, and enjoy an organic, farm-to-table vegan feast with a panoramic view of the Tuscan countryside.
Vegans and anyone who embraces a plant-based cuisine will thrill at these tours - timely reflections of modern vegan lifestyles and the best local traditions.
Start your Trip!
Copyright BestTrip.TV/Influence Entertainment Group Inc or Rights Holder. All rights reserved. You are welcome to share this material from this page, but it may not be published, broadcast, rewritten or redistributed.
It's a geological mystery and a rare spectacle of Nature at the world's first National Park. Yellowstone National Park occupies over 2.2 million acres of land in Wyoming, Montana and Idaho – larger than Rhode Island and Delaware combined! The park's famously magnificent vistas include forests, lakes, waterfalls and petrified forests, all home to a treasure of American wildlife.
But beneath its surface beauty, that's where Yellowstone National Park gets even more interesting. It's over top of a giant volcanic hotspot, which has created over 10,000 thermal (heat-related geological) 'features', and more than 300 geysers.
The conditions that create geysers are rare. Yellowstone is one of the few places on earth where you see them. Geysers erupt when magma (underground molten rock from volcanic activity) heats up gas and water trapped below ground until they erupt like a teapot coming to boil. The hot water and gas generate enough pressure to break the surface of the earth and gush upwards in a tower of water that lasts minutes, followed by days of steam continuing to release.
That's what's happened at least 4 times in just a couple of months during the spring of 2018 at the park's Steamboat Geyser (photo credit). Each time, about 70,000 gallons of water have erupted from the world's tallest geyser, where powerful eruptions can spew steaming hot water over 300 feet into the air.
Like most geysers, Steamboat is completely unpredictable. Yellowstone's most famous geyser, 'Old Faithful', fulfills the promise of its name and erupts almost on clockwork every hour or so, and you can even monitor them on the dedicated Twitter feed created by the National Park Service. Scientists think Old Faithful's predictability is due to a simple underground structure, whereas Steamboat's structure is believed to be more complex, and the magma movement irregular.
In fact, it's the first time in 15 years that Steamboat has erupted 3 times in one year. The last time it erupted at all was in 2014. But in 1964, Steamboat erupted a record 29 times!
The truth is, other than general knowledge of how the park's underground volcanic activity activates geysers, scientists don't know for sure why Steamboat has started erupting again – or why it has already blown four times in a couple of months.
So the show may not be over.
That's why this might be the best year to make a trip to Wyoming and Yellowstone National Park; for the possibility of witnessing a rare display by Mother Nature you won't see many other places on the planet.
Let us help you plan a trip to Yellowstone and other National Parks in America's West this year; tour packages bring you to the heart of Yellowstone National Park, and hopefully, you'll have a once-in-a-lifetime experience with Yellowstone's famous geysers. Start your Trip!
Copyright BestTrip.TV/Influence Entertainment Group Inc or Rights Holder. All rights reserved. You are welcome to share this material from this page, but it may not be published, broadcast, rewritten or redistributed.
That's actually a trick question. This tiny dot in the eastern South Pacific ocean, but technically territory of Chile, is actually Rapa Nui.The world over, Easter Island is synonymous with exotic mysteries of an impossibly distant, long-lost civilization and mind-boggling human endeavor.
It may be the most remote inhabited island on the planet. Only a few thousand people live on this remnant of oceanic volcanoes sticking out of the sea, and that's the first miracle itself. The closest inhabited island is 1300 miles away (Pitcairn Island with only 50 people) and the nearest continental point is Chile – over 2000 miles away. Local tales say a 2-canoe Polynesian expedition around AD 700 was the start of Rapa Nui's extraordinary story.
Today, Easter Island is on the map of global travelers who want to come face to face with the island's nearly 1000 moai at its UNESCO World Heritage Site.
These stately, solemn statues were carved during a 500-year period in the island's history, beginning a thousand years ago. The moai share artistic characteristics with Polynesian carvings, confirming the origin tale of the Rapa Nui people. Chiseled with only stone tools out of volcanic rock in the 'quarry' of an extinct volcano, each statue took a team of half a dozen artisans about a year to complete. The largest is over 30 feet long and weighs 90 tons. They were an incredible feat of creativity and production and organized society.
You probably think of them as 'Easter Island heads'. But the moai actually have torsos and some even have complete lower bodies; just buried up to their necks over the centuries by shifting sands.
These monumental statues represented deceased ancestry. And only about a quarter were originally installed, others left in the quarry or rest en route to their intended locations. All but 7 faced inland, the spirits of the deceased 'watching over' the living and their lands. The 7 facing the sea were stood as wayfinders for travelers.
Many moai toppled after the mysterious collapse of the Rapa Nui society in the 19th century. In recent decades, local and international efforts have restored and re-mounted a number of moai. This dot on a map in Chilean Polynesia still seems as awe-inspiring with hidden secrets as when explorers first arrived.
Which brings us to: Why is it called Easter Island? The Dutch explorer who was the island's first-recorded European visitor arrived on Easter Sunday in 1722 – he came upon it while searching for another island. (He must have been pretty lost!) So 'Easter Island' it was dubbed and its current official Spanish name in Chile is still Isla de Pascua, while its Polynesian name is Rapa Nui, in local language: the 'naval of the world'.
There's more to Rapa Nui than the silent witness of the moai to the island's past. Visitors experience the local version of Polynesian culture, explore pink-sand beaches, caverns, and dive sites, cycle, hike or ride horses across prairies and volcanic hillsides, and even surf on those waves so distant from other shores.
How to get there? You can fly from both Chile and Tahiti, participate in tour packages offered by expedition and exotic travel experts, arrive by small or expedition cruise ship, or by private yacht.
There may be no where else in the world where a traveler can feel the greatness of human achievement and small in the face of a culture so far across the waves.
Start your Trip!
Copyright BestTrip.TV/Influence Entertainment Group Inc or Rights Holder. All rights reserved. You are welcome to share this material from this page, but it may not be published, broadcast, rewritten or redistributed.
The 2018 Winter Olympics remind us how exciting a travel destination Korea is.South Korea has an enviable range of high octane urban, spectacular mountain, beach and countryside destinations, a rich history, culture and cuisine as well as a world-renowned pop culture that rank South Korea among the most unique places in Asia. Visit by land or by cruise ship; the Korean peninsula has several major ports and a long-established maritime lifestyle.
Here's a list of places you'll want to include on a trip to South Korea.
PyeongchangYou may never have heard of Pyeongchang until it was designated host of the 2018 Winter games, but this winter resort area is a natural Winter Olympic host. Its catchy slogan is 'Happy 700 Pyeongchang', referring to the city's 700 meter (2300 foot) elevation in the Taeback mountain region east of the South Korean capital of Seoul.
Photo Credit
As you'd expect, Pyeongchang sees seasonal snow and low enough temperatures to sustain outdoor winter sports. Two resorts in the region attract skiers, boarders as well as off-season mountain hiking. They're the core of the winter games sites, which have also resulted in additional hotel and sports facilities.
Photo Credit
The Olympics brought other advances, too. A new high-speed (250 km/h or 155 mph) train now brings visitors from Seoul in less than an hour and a half. Don't spend all your time on the slopes in Pyeongchang. Take a break for your spiritual wellness at one of the area's notable and historic Buddhist temples.
SeoulSeoul is the 4th most economically powerful city in the world, the hub of its global technology, electronics, and auto industry wealth. Like other large, wealthy Asian cities with extraordinary modernism, high-tech, high-rise Seoul can feel surreal to visitors. The center of K-pop (Korean pop music), entertainment and media, this is a city that never sleeps. (Top Photo Credit)
Photo Credit
Seoul is land-locked and surrounded by mountains. The city was established on the Han river 2000 years ago, and has been Korea's capital for over six centuries. Korea's west-coast port of Incheon is right next door; if your Asia cruise has a call there, you'll be well-positioned to do some 'Seoul searching'.
Photo Credit
Seoul's neighborhoods are landmark destinations in a whirlwind city. Among the skyscrapers, neon, miles of packed arcades and landmark hotels, you'll be immersed in the lifestyle of one of the largest urban centers in the world, Korean style: chic drinks and dinners as well as upscale shopping for local and international brands.
But don't miss the historic and authentic side of Korea in Seoul. Artisan and local craft markets, the Joseon Dynasty palace complexes of traditional architecture, local festivals and religious ceremonies with celebrants in traditional dress are distinctly Korean experiences. The area is home to 5 UNESCO World Heritage sites as well its international design award-winning modern architecture.
Jeju IslandFormed by volcanic eruptions over 2 million years ago, Jeju island is the largest island off the Korean peninsula, 85 km (50 miles) south of the peninsula in the waters between Korea and Japan. Jeju's lava base limited early agriculture and resulted in a unique and pristine ecology that set Jeju apart from anywhere else on earth.
Photo Credit
It also created breathtaking lava formations including one of the biggest lava tubes in the world, nearly 9 km (over 5 miles) long and close to a hundred feet high and wide. Visitors are in awe of the full range of cave architecture like columns, benches, bridges and more. The 7.6 meter (25 foot) column of lava inside is the largest known in the world. The caves are home to exceptional wildlife, including a 30,000 strong colony of bats.
Photo Credit
Jeju is an increasingly popular resort island, with a sub-tropical, humid climate warmer than the rest of Korea and some stunning beaches. The island, historically isolated from the mainland, also has its own cultural, clothing, architectural and language traditions.
BusanSouth Korea's second biggest city, on the south-east coast of the peninsula, is also the country's largest port. Many Asian cruises call at Busan. Like Seoul, it's a fascinating combination of history and tradition on the one hand, and eye-popping ultra-modern urban lifestyle on the other. Shop til you drop at the world's largest department store, and take a wellness break at one of the city's dozens of traditional spas using natural-sourced spring water.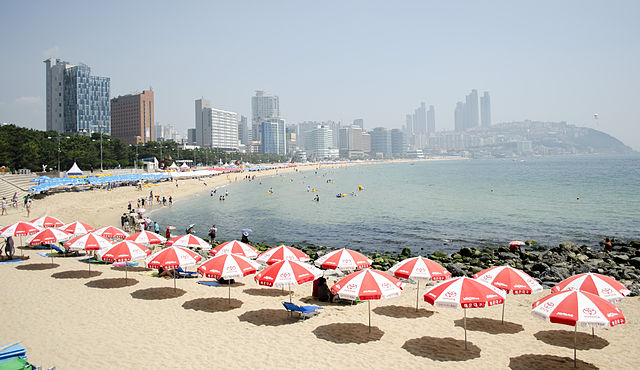 Photo Credit
Compared to Seoul, Busan is blessed with a warmer climate, beaches, and a maritime lifestyle including a renowned fish market, and signature seafood cuisine. Surrounding mountains provide cool air and magnificent vistas over the sea. Many Korean temples are at the tops of mountain hikes, so don't miss one spectacular exception, the Haedong Yonggung Temple on Busan's coast overlooking the Sea of Japan.
Photo Credit
The Demilitarized Zone (DMZ)The DMZ is a 4 km (2 ½ mile) wide no man's land between the two Koreas that spans the entire peninsula 250 km (150 miles) from sea to sea. The DMZ is a very real reminder of the conflict between the two Koreas that remains unresolved today.
Don't let the name mislead you. It's called 'demilitarized', but Korea's DMZ is actually one of the most heavily armed, land-mined, barricaded and patrolled regions of the world. Tours into the DMZ bring the history of the Cold War conflict that split this country into high relief. It also soberly memorializes the lives lost and families separated as a result of the division of the country. Absent human activity in the area, several formerly endangered species have re-established footholds in the DMZ. So there's that small consolation. As an experience of military tourism and reminder of the repercussions of the Cold War that still exist today, Korea's DMZ is unlike anywhere else on the planet.
Photo Credit
The Olympic flame only burns in Korea during the games, but we hope the 2018 Winter Olympics shine a permanent spotlight on South Korea as one of Asia's most unique – and unmissable – travel destinations. Start your Trip!
Copyright BestTrip.TV/Influence Entertainment Group Inc or Rights Holder. All rights reserved. You are welcome to share this material from this page, but it may not be published, broadcast, rewritten or redistributed.
Twice in a row, the International Association of Golf Tour Operators has named New Zealand the golf destination in Asia Pacific with the best experience for golf travelers.Do you think of New Zealand as the golf world's hidden gem? In fact, only Scotland has more golf courses per capita in the world. This island nation has 400 golf courses ranging from ocean-front, subtropical courses in the north, to alpine terrain and vistas in the south. So getting on the tee is never a problem.
New Zealand loves its golf. And New Zealanders love to share golf with visitors. Local volunteers run small country courses, and of course the country boasts exceptional world-class championship courses.
Thinking of a trip to this golfer's paradise? Here are 5 of New Zealands' most spectacular marquee golf courses for the ultimate golf travel experience.
Kauri Cliffs Kauri Cliffs ranks in Golf Digest's list of the world's top 50 golf courses. Perched above the bay in New Zealand's Bay of Islands, this championship course has five sets of tees for all levels of golfers. You'll be challenged by native rough, stands of fern and intimidating forced carries over gorges. Four of the 18 holes run parallel to the Pacific on the top of dramatic cliffs.
The Lodge at Kauri is famous in its own right, with top-shelf accommodation and the Pacific Rim cuisine that rivals the views over the ocean.
Cape KidnappersThis poetically-named golf course (Photo Credit: The Farm at Cape Kidnappers) in the country's famous Hawke's Bay wine region will steal any golf lovers' heart. The course is dramatically perched on a narrow peninsula that juts into the Pacific and ranks in the top 20 of Golf Digest's list of top 50 courses.
The par 71 course is not for the faint-hearted. Here's one description: a "stratospheric Pebble Beach, high atop a windswept plateau some 500 feet above the sea". Imagine yourself taking challenging tee shots over deep canyons. And its luxury lodge is one of the country's most exclusive and talked-about resort destinations.
The Kinloch Club This Jack Nicklaus-designed golf course enhances the Kinloch Club's (Photo by the Kinloch Club) natural environment and is a test of true links golf. Internationally-renowned, this par 72 course rivals the panoramic views of New Zealand's largest fresh-water lake, Lake Taupo, and the surrounding rugged rural landscape.
The Lodge at Kinloch is just as known for golf as well as romantic couples' escapes.
Jacks PointThis 18-hole, par 72 championship course with five tee positions to choose from is an unforgettable golf experience only 20 minutes from downtown Queenstown.
But the view is even more spectacular. Lake panoramas and the breathtaking 2300 vertical meters of the aptly-named The Remarkables mountain range are the best possible distraction from your game.
The natural landscape remains as part of the course architecture. Native tussock grasslands, dramatic rock outcrops and native bush are 'par for the course' at Jacks Point on the edge of Lake Wakatipu.
The HillsThe Hills is a magnificent golf course surrounded by snow-capped mountains near Queenstown providing not only a dramatic landscape but a challenge to all golfers.
The Hills occupies a former deer farm near Arrowtown, Queenstown (image credit: Gary Lisbon). Native plants including native brown top grasses and wild mountain tussocks are preserved in the design. But there's an even more unique course design story here: sculptures crafted by New Zealand artists are integrated into the course's lakes, waterways and wetland areas.
With a reputation that includes its position as co-host of the New Zealand Open, The Hills is a course that's a destination for both player and spectator. So on or off the course, this will be a lasting memory of a golf trip to New Zealand.
Start your Trip!
Copyright BestTrip.TV/Influence Entertainment Group Inc or Rights Holder. All rights reserved. You are welcome to share this material from this page, but it may not be published, broadcast, rewritten or redistributed.
Giant manta rays, sharks, whales, turtles, sea lizards and hundreds of other species are now protected in Mexico's vast new Revillagigedo marine reserve in the Pacific Ocean off the Baja Peninsula.There are four Revillagiegedo Islands about 240 miles (390 km) southwest of Baja California. They are small, uninhabited volcanic islands, but uniquely positioned where two ocean currents converge. (Top photo credit). That makes the islands and the waters around them a hub for hundreds of species of marine plants, birds and animals that live there or migrate there especially for breeding.
Previously, only the waters 6 miles around the islands were protected, leaving vital feeding, breeding and migration areas open for fishing. But in 2016 the area was designated a UNESCO World Heritage site for its biodiversity and in November 2017, the Mexican government created an immense marine reserve 57,000 square miles (148,000 square km) surrounding the islands. That's a protected area the size of the entire state of Illinois, and the largest marine protected area in North America.
(Photo Credit)
All fishing is now banned inside the reserve – a move that will actually support the fishery. Protecting breeding grounds of commercial fish like tuna will allow hard-hit fish populations recover to the benefit of local fisheries outside the reserve. (Other marine reserves around the world have seen the local fisheries benefit from the conservation of breeding grounds).
Mining, resource extraction and hotel development will also be prohibited. Plans for active protection are now in place. The Mexican Environment Ministry and Navy "will carry out surveillance, equipment and training activities that will include remote monitoring in real time, environmental education directed at fishermen and sanctions against offenders".
Already, conservationists are celebrating and calling it 'the Galapagos of North America'. The Revillagigedo islands are considered one of the wildest places remaining in tropical North America, where you can see the most giant manta rays and sharks and large fish in the world as well as soft coral gardens with sea fans, sponges and crabs.
(Photo Credit)
What does this mean for us travel lovers? In addition to knowing some of the Earth's biodiversity and natural marine beauty are being protected, Mexico's creation and protection of the new Revillagigedo marine reserve is expected to increase the opportunity for dive tourism in the area. Boats currently often depart for the Revillagigedo islands from the popular resort destination Cabo San Lucas. Not a diver? It's anticipated that carefully monitored wildlife adventure cruises, like trips travelers can take to the Galapagos Islands in the waters of Ecuador, will also allow travelers to experience the biggest marine reserve in North America.
Start your Trip!
Maybe you've had the fun of a zip line adventure before. But have you ever taken a zip line over the ocean?
When Norwegian developed Harvest Caye, its private island beach resort port of call for cruises in the Norwegian family: Norwegian Cruise Lines, Regent Seven Seas Cruises and Oceania, it took the concept of a zip line adventure to another level (pardon the pun.)
Standing tall on the island is the 'Flighthouse'. A tower that looks, no surprise, like a lighthouse. It's the focal point of the island's air-borne adventures. Guests depart from the Flighthouse onto ropes courses over the beach and lagoon, and this is where you can take flight on a zip line that sets you sailing over the crescent-shaped beach, then right over the water to a safe landing back on shore. It was a highlight of our BestTrip.TV visit to the island, and we're sure it will be yours, too.
Start your Trip!
Copyright BestTrip.TV/Influence Entertainment Group Inc or Rights Holder. All rights reserved. You are welcome to share this material from this page, but it may not be published, broadcast, rewritten or redistributed.
This UNESCO World Heritage Site, and the most recognizable natural landmark symbol of Australia, has banned visitors from climbing.
Uluru/Ayers Rock rises nearly 350 meters (1142 feet) high above the hot, dry, desert in the center of Australia. This monolith is almost 10 km (6 miles) around. And it isn't just a miracle of survival of the erosion of the rest of the landscape around it. At different times of the year and in the light of dawn and sunset, its sandstone also appears to magically glow red. (Top photo credit)
Cultural and Spiritual Significance
Photo Credit
No wonder it is a place of cultural and spiritual significance for the local Aṉangu people, the traditional local inhabitants. The area also has springs, waterholes, and rock caves with ancestral petroglyphs and paintings. Members of the aboriginal community lead walking tours to introduce visitors to the local plants and wildlife unique to the area, aboriginal cultural traditions, and their Dreamtime spiritual stories.
But they don't lead treks up the steep slopes to the top.
10,000 Years of Human History
Archaeologists have determined humans inhabited the area more than 10,000 years ago. Europeans arrived in the late 19th century, and tourism to the site began in the first half of the 20th century. Since the site was given UNESCO World Heritage designation, even more people - half a million visitors a year - have made the journey to this spectacular site at the heart of Australia.
As interest and visits rose, the challenge to balance conservation, respect for Uluru's spiritual significance, and visitor experience grew.
To Climb or Not to Climb?
The local aboriginal people do not climb the sacred Uluru rock themselves to avoid violating sacred Dreamtime ground. And they have long requested visitors follow their lead.
Photo Credit
Nonetheless, about a third of visitors to Uluru/ Ayers Rock make the hour-long, steep, 800 m (half-mile) climb to the sometimes dangerously windy summit. In recent years, unfortunate videos have even popped up of truly disrespectful behavior by tourists at the top.
Those incidents have added to pressure to ban climbing Uluru. First, Ayers Rock was re-named using its aboriginal designation. Then, in 1985, ownership of Uluru was returned to the local aboriginal people, who now share decision-making on the management of the National Park where Uluru resides.
New Rules at Uluru
In November 2017, the park board voted unanimously to prohibit climbing Uluru. The new rules take effect in October 2019, coinciding with the 34th anniversary of the return of the site to its aboriginal owners.
If you visit Australia, there are still many ways to experience the awe-inspiring site of Uluru other than climbing. Since 2009, there have been special viewing areas whose design and construction were supervised by the aboriginal community. They provide visitors road access, walking trails and views from angles at both sunrise and sunset.
Start your Trip!
Copyright BestTrip.TV/Influence Entertainment Group Inc or Rights Holder. All rights reserved. You are welcome to share this material from this page, but it may not be published, broadcast, rewritten or redistributed.
The world's first nesting performance kayak may not actually reduce to airplane carry on size. But its 6 interconnecting sections pack into a custom-made wheeled backpack bag that's a mere 3 feet long and weighs only 55 pounds.
So you can store it in a closet. Then roll it like a piece of luggage and take it with you in a car trunk, a cab, train, ferry, check it on your flight, or even carry it on your back hiking to any body of water begging to be explored.
Once you reach the water, the Pakayak Bluefin 14-foot sea/touring kayak assembles in under 5 minutes – with no small, loose parts to lose in the sand.
So even in a remote location anywhere in the world, you can create your own kayaking adventure.
Pakayak is a crowd-funding, adventure-travel success story. A Connecticut outdoor adventurer / entrepreneur designed and patented the nesting Pakayak. The company raised 125% of its kickstarter fundraising goal, supported by lovers of the outdoors eager for a full-scale, easily-stored and easily-transported kayak. One supporter has pre-ordered one for each member of the family.
The interconnecting sections are made from high-grade kayak industry resin that nest into each other, then assemble with a series of patented clamps and seals resulting in a watertight and rigid performance kayak.
Once assembled, it looks and performs just like a conventional kayak. It has a thick foam seat for comfort, adjustable foot braces and seat back, two watertight hatches, watertight bulkheads fore and aft, a padded folding seat, adjustable foot braces, reflective safety lines, bungee deck rigging, front and rear carry handles, and it's rudder-ready.
Future planned developments include additional models of different lengths, and seats for fishing, kids and dogs.
Pakayaks aren't just the ultimate mobile kayaks. You can also feel good about the company's commitment to social and ecological responsibility. Clamps and shells are made in the U.S., where the kayaks are also molded and assembled, providing local jobs. Manufacturing, assembly and distribution all take place at the same facility to minimize environmental impact. The design reduces shipping and fuel costs compared to conventional kayaks. In fact, 6 times more Pakayaks than regular kayaks fit in a tractor-trailer.
Pakayak takes seriously the responsibility of outdoor adventurers to be active stewards of the environment and puts their money where their mouth is.
The first model, the Bluefin 14 is named after the endangered species, and future models will also be named after a threatened marine animal or fish, with a percentage of profit from each sale going towards efforts to protect that species and sustain the world's marine ecosystems.
Pakayaks are inspiring and empowering. They have opened up a whole new way to travel the world with your own kayak and the complete freedom to spontaneously explore the rivers, seas and coastlines on your list.
Start your Trip!
Copyright BestTrip.TV/Influence Entertainment Group Inc or Rights Holder. All rights reserved. You are welcome to share this material from this page, but it may not be published, broadcast, rewritten or redistributed