Suddenly, everyone is golfing again.
With only a few minor tweaks that courses have easily implemented, the game checks all the boxes for a COVID-safe pastime. So it's no surprise that even less committed golfers have dusted off the clubs, rediscovering the delights to be found on the greens.
As we rediscover travel, the same features that make golf the ideal pursuit in our own neighborhoods also make it an excellent theme for your post-COVID travels.
The list of famous golf courses, resorts and destinations is long and world-wide. And there's one unique way to enjoy multiple, top-tier courses on one, relaxed trip where you check into a single, floating 'hotel' that takes you to multiple courses: golf-themed cruises.
With a concierge approach that gives guests access to courses and tee times they might not be able to arrange themselves, golf cruises allow golfers who love the cruise lifestyle to enjoy two passions on one trip.
Here are three top picks:
Golf Cruise on the Mississippi River
Cruise line: American Queen Steamboat Company
Golfers have one chance in May to enjoy this unique American cruise. AQSC's 'American River Golf Classic' 9-day cruise from Memphis to New Orleans gives golfers the chance to play at 4 of the most prestigious courses along the Lower Mississippi River, with an option to play in New Orleans after you disembark, too.
While American Queen sails the country's largest paddleboat, on this journey, you'll sail on her sleek and contemporary sister ship, the American Countess, complete with custom Italian fabrics, rich walnut wood, premium linens, a host of sociable or secluded verandas with comfy seating in the tradition of Southern hospitality, floor to ceiling windows with panoramic views of Ol' Miss, and fresh, regional cuisine. You'll be one of the first to experience her elegant décor as she makes her way down the mighty Mississippi.
Iconic cities of the South on this golf cruise include Natchez, Mississippi, St. Francisville and Baton Rouge Louisiana, with included overnight stay in Memphis before the cruise departs and disembarking in NOLA. The Lower Mississippi River has stories to share – a legacy that flows from Memphis to the Gulf of Mexico. A new chapter – and a new golf course - awaits around each river bend.
Golfers enjoy four top-rated local courses along with the history, culture and memorable scenery of the South, including:
· Colonial Country Club in Memphis;
· Copper Mill Golf Club in Zachary, Louisiana;
· Black Bear Golf Club near Vicksburg;
· The Bluffs Golf & Sports Resort in St. Francisville, an Arnold Palmer designed course;
· With an option to play at TPC Louisiana in New Orleans after disembarkation.
That's up to 5 top courses in different cities in 9 days, with the relaxation of a river cruise and the company of fellow cruise travelers and golfers – with your golfing made easy. The cruise line's 'Rounds on the River' package includes lunches, special giveaways, a special guest appearance from a recognized golf expert and professional, all equipment transportation and club cleaning prior to play.
Golf Cruise in the Heart of Europe on the Danube River
Cruise line: AmaWaterways
AmaWaterways' Concierge Golf Program offers the same opportunity to golf at world-class courses all in one trip. Along the storied Danube, that means golfing in multiple countries during a 12-night journey that includes pre- and post- cruise stays in Prague and Budapest at either end of a 7-day voyage on AmaWaterways' flagship AmaMagna. At twice the width of any other river ship, it has re-imagined river cruising with more personal space, more dining venues, more leisure space and activities than any other ship sailing the rivers of the world.
There are nearly a dozen departures of the Concierge Golf Program from May through October that include the Czech Republic, Germany, Austria, Slovakia and Hungary. The route features some of Europe's premier UNESCO sites, fabled culture, architecture, beer gardens, local wines and scenic sailing.
Even if you've sailed the Danube before, the exciting golf programming is a whole new way to enjoy the region. Golfers on the program play at:
· Albatross Golf Club in Prague, host of the Czech Open, featuring 7 lakes and bordering on a nature reserve;
· Quellness Golf Resort in Bad Griesbach, Germany, host of the Porsche European Open
· Diamond Country Club on the outskirts of Vienna, Austria;
· Penati Country Club in Slovakia and host of the Slovakia Open, a 'Nicklaus Design LEGEND COURSE' that meets world PGA standards with a fantastic view; and
· Pannonia Country Club in Budapest, and host of the Hungarian Open, designed by famous Austrian course designer Hans. G. Erhardt.
It's the European golf trip of your dreams where your luxury hotel follows you from one dynamic destination to the next. The program makes the cruise – to – golf experience seamless and easy for golfers. Guests are transferred from ship to course and back by private luxury Mercedes. Your tee time, practice balls and golf cart are prepared in advance, and after your round, you enjoy lunch in the course clubhouse with beer and wine all included. When it's time to transfer back to the AmaMagna, your clubs will be cleaned and ready for the next course on your golf odyssey.
Golf Cruises Around the World
PerryGolf on Azamara
Azamara, the boutique ocean cruise line, doesn't just offer a single golf itinerary. For a decade, it's been partnered with luxury golf vacation company PerryGolf to offer a selection of golf cruises that just keeps growing. There are now two dozen golf voyages that include play at over 70 marquee courses in 23 countries, including some of the top 100 courses in the world, like Ireland's Royal Portrush, Scotland's Turnberry and New Zealand's Cape Kidnappers.
Above: Portmarnock Golf Club in Dublin, Ireland
Top: Emirates Golf Club (Majlis Course) in Dubai
The voyages follow the sun and the prime golfing seasons around the world, beginning in the New Year Down Under in Australia and New Zealand, plus a new South Africa golf cruise, followed by Spring and Summer in Europe, in the Med as well as the Baltics including St. Petersburg, plus a new itinerary to Norway, as well as flagship itineraries in the British Isles with country-intensive voyages to Scotland and Ireland, then in the Autumn, the dramatic courses of the Arabian Gulf countries and South America late in the year, including a first-time sailing from Rio to Buenos Aires.
Depending on the destination, cruises range from 7 to 17 nights, with between 3 and 6 rounds of golf on a cruise. There's a full-time PerryGolf program manager on board your cruise as well as onsite at each course, and you're taken care of at every step, including tee times, carts or caddies, pairings, competitions, social events for fellow golfers on board, handling of your golf equipment, transfers and tips. It's like an international floating golf club that's unparalleled in cruising.
Everyone's considering what types of trips to kick-start post-COVID travel with peace of mind. The outdoor distancing of golf and the appeal of access to multiple new, world-class courses, combined with the luxury and convenience of a safe, single floating hotel that transports you to different destinations with exciting new courses every day, make golf cruises more popular than ever.
By: Lynn Elmhirst, BestTrip TV producer host and cruise expert
#DreamNowTravelSoon
Copyright BestTrip.TV/Influence Entertainment Group Inc or Rights Holder. All rights reserved. You are welcome to share this material from this page, but it may not be published, broadcast, rewritten or redistributed.
In some very special places in North America, Mother Nature has found a perfect formula to make dramatic hillside scenery decked out in autumn colors even more breathtaking: she's added waterfalls.
If you're planning an autumn colors getaway, here are three fantastic falls that will put the icing on the cake of the fall color pictures you'll want to post on your social media accounts.
Multnomah Falls, Oregon
America's West is full of great heights – and great falls. From the Grand Canyon, to Yosemite, to the very shores of the Pacific in California, dramatic waterfalls have taken visitors' breath away since humans first set eyes on these wonders.
But unlike many western falls that dry up in late summer,
Oregon's Multnomah Falls
work their magic year round, fed not just by melting snow and rain runoff, but also underground springs in the cliffs that line the Columbia River Gorge.
WATCH BESTTRIP TV'S VIDEO ABOVE ABOUT THE MAGIC OF MULTNOMAH FALLS
Said to be the most visited attraction in the state, at 620 feet, this two-tiered falls is also the tallest of the nearly 80 falls on the Oregon side of the spectacular Columbia River Gorge.
The falls are tucked into a hollow in the cliffs, and mist and spray off the cascades create its own, lush microclimate that feeds fairytale moss on the basalt rocks, and lacy, leaved trees all around. It's an incredibly romantic vision that you can feel a part of by walking up a trail to the bridge that spans the lower cascade.
The romance of the site is rounded out by a lodge at the base of the falls built from local rock in National Park lodge style that dates back to 1925. In addition to the usual lodge amenities, you'll find hiking trail information. You can hike to the very top of the falls as well as on many surrounding trails, including to other falls along the Columbia River Gorge.
How to experience the falls:
The site falls within the Mt. Hood National Forest, and along the Columbia River Gorge, yet it's only 30 minutes – an hour's drive outside of Portland, Oregon. We always recommend taking the slower, scenic route, which will take you along some of the most breathtaking sites of the Columbia River Gorge.
Many people make the falls, the gorge, and Mt. Hood a splendid day trip from the artistic and hipster attractions of Portland.
The falls are also a highly rated excursion from Columbia River cruises.
Niagara Falls – Ontario, Canada and New York, USA
The granddaddy of waterfalls in North America, Niagara Falls are remarkable in so many ways.
It's the only dual-country attraction in North America, straddling the US-Canada border.
Niagara Falls refers to what are actually three side-by-side falls on the Niagara River dropping 160 feet down where Lake Erie flows into Lake Ontario eastward to ultimately drain into the Atlantic Ocean almost half a continent away.
They are the most powerful falls in North America, with more than 6 million cubic feet of water flowing over the edge of the falls every minute!
It's one of the Seven Wonders of the Natural World.
The water flowing over Niagara Falls is a signature vivid green, created as the water erodes the rocks it flows over and absorbs the minerals.
The biggest falls are the perfectly-named 'Horseshoe Falls' on the Canadian side, where a nightly, year-round light show illuminates the Falls for awed visitors. Every few years, the Falls freeze in the winter, creating a fantasy of icy shapes and lacy frozen mist.
How to experience the falls:
Observation vantage points and towers, helicopter tours, and (very wet) tours behind the falls and boat tours beneath the falls that take you incredibly close to thunderous cascades, are all favorite experiences on both sides of the border.
Niagara Falls, New York is only a half-hour from Buffalo, and Niagara Falls, Ontario is just over an hour's drive from the bright lights of Toronto. On the Canadian side, the Niagara wine region provides the world with its best ice wine.
Great Lakes cruises often dock nearby for guests to enjoy the Falls, wine region, gardens, and other tourist-town attractions.
TAKE A VIRTUAL VISIT NOW: You can view the majestic Niagara Falls from home 24/7 with the Niagara Falls Live Web Cam, including the nightly Falls Illumination.
Montmorency Falls – Quebec City, Quebec
9 of the 10 tallest waterfalls in Canada are in the West / Northwest; 8 of them are in the Rockies (one on the Alberta side and 7 on the British Columbia side). Another is in the Northwest Territories.
But only one waterfall east of Alberta makes that list. And it's not Niagara Falls.
Quebec's Montmorency Falls
are actually a hundred feet higher than Niagara's famous falls, dropping 272 feet from the Montmorency River over a cliff into the Saint Lawrence River.
Year-round, visitors can climb a staircase or take a funicular to the top, where a suspension bridge spans the cascades.
How to experience the falls:
The Montmorency Falls are a popular day trip and an easy drive from Quebec City. It's less than 10 miles from the heart of the more than 400-year Old Quebec City, considered a little piece of Europe in North America, with the only remaining fortified city walls on the continent north of Mexico, and historic, French-style buildings.
It's a popular excursion from a Canada & New England cruise. You'll want to make sure you add a pre- or post-cruise stay in this magical city, and include a trip to the falls, where many cruise lines offer excursions.
Helicopter tours of Quebec City often include the Montmorency Falls.


#DreamNowTravelLater
Copyright BestTrip.TV/Influence Entertainment Group Inc or Rights Holder. All rights reserved. You are welcome to share this material from this page, but it may not be published, broadcast, rewritten or redistributed
From rivers, to oceans and lakes… and now to America's heartland. Viking Cruises has announced it will cruise the Mississippi between St. Louis and New Orleans beginning in 2022.
The company's first custom vessel, purpose-made in America for these iconic river itineraries, is named Viking Mississippi and debuts in August 2022. It will be the largest and most modern ship in the region.
In signature Viking style, the 193 stateroom, 5-deck state-of-the-art ship features the clean lines of Scandinavian style. In the case of the Viking Mississippi, there are also American influences that reflect her location. All guests enjoy spacious, all-outside suites or staterooms with either veranda or French balcony, well appointed, including 24-hour service.
Popular Viking features previous Viking cruise guests know and love include:
Sun Terrace with Infinity plunge pool with a glass back on aft sun terrace;
Explorers' Lounge with floor-to-ceiling windows opening to The Bow forward outdoor lounge with the best views of the river;
River Café, a casual, al fresco alternative dining venue serving casual food from American classics to Norwegian specialties;
Aquavit Terrace on the top deck for casual dining and American barbecue; Combined with the River Café, the Aquavit Terrace will provide the most al fresco dining on the Mississippi;
The Restaurant main dining venue on Deck 1 serving daily-changing menus featuring delicious regional cuisine and classics prepared with fresh, local ingredients;
Full 360-Degree Promenade on Deck 1;
Enrichment on board and on shore, including Destination Performances that represent the most iconic music of the region—as well as Guest Lecturers that shed light on the region's art, architecture, history, culture, natural world and more, Privileged Access, Local Life and Working World experiences like a kayaking trip in the Louisiana bayou; visit a working farm in Quad Cities; or immersion in Cajun culture during a Privileged Access excursion to the Rural Life Museum of Louisiana State University.
Sustainability features like solar panels, LED lighting, floor-to-ceiling windows that maximize natural light and an energy-efficient hybrid propulsion system that will make Viking Mississippi the most environmentally friendly passenger ship on the Mississippi River.
The Viking Mississippi's launch not only brings a new age of modern river cruising to the U.S., close to home for many fans of Viking cruising in Europe and around the world. It also represents major support for the local tourism economy in communities along its routes. Currently scheduled ports of call include seven states: Louisiana (Baton Rouge, Darrow, New Orleans and St. Francisville); Mississippi (Natchez and Vicksburg); Tennessee (Memphis); Missouri (Hannibal, St. Louis); Iowa (Burlington, Dubuque and Davenport); Wisconsin (La Crosse); and Minnesota (Red Wing, St. Paul).
2022-2023 Viking Mississippi Inaugural Voyages
America's Heartland (8 days; St. Louis to St. Paul)—From pristine farms nestled in rolling terrain to steep bluff rising from tributaries dotted with wooded islands, the Upper Mississippi offers a rich tapestry of beauty upon every turn of the river. This journey introduces you to the unforgettable experience of the locks and dams that control the flow of the heartland rivers. Hear stories of settlers migrating west; learn about Lewis & Clark, Mark Twain, John Deere and the Amish and Norwegian migrations; experience the regional music like polka and Norwegian folk; and taste regional cuisine showcasing local beer, produce and Wisconsin cheese.
Heart of the Delta (8 days; New Orleans to Memphis)—This journey on the Lower Mississippi is infused with American history, culture and heritage. Tour the area where the migrating French and Acadians settled; immerse yourself in the culture and lessons from the American Civil Rights Movement; discover the music of the South—jazz, blues and gospel; and experience the life and food culture of the south, from Cajun and Creole to the famed "dry" Memphis BBQ.
Southern Celebration (8 days; New Orleans–Vicksburg–New Orleans)—On this exploration of the Lower Mississippi, visit the historic homes of Louisiana and Mississippi; learn about Civil War history, touring sites like Vicksburg National Military Park; and discover the excitement and unique flavors of New Orleans and Baton Rouge.
America's Great River (15 days; New Orleans to St. Paul)—Experience nearly the entire length of the Mississippi River on this incredible journey from the Gulf of Mexico to the northernmost reaches of the U.S. Relax and enjoy the variety of scenery, foliage and wildlife on this leisurely voyage. Enjoy southern charm and beautifully preserved homes in Natchez; retrace the steps of Civil Rights leaders in Memphis; ascend the Gateway Arch in St. Louis; and visit "The Norwegian Valley" in La Crosse.
The Viking Mississippi will join Viking's current fleet of 79 river and ocean vessels, as well as the recently-announced new Viking Expeditions to Antarctica and the North American Great Lakes. Viking has introduced more than 60 new river cruise ships and 6 ocean ships in the last 8 years, making it the largest small-ship cruise line.
Images of Renderings: Viking
Copyright BestTrip.TV/Influence Entertainment Group Inc or Rights Holder. All rights reserved. You are welcome to share this material from this page, but it may not be published, broadcast, rewritten or redistributed.
It's a US territory with sun-kissed Caribbean charms. Where lush jungles, land and marine parks and world-class beaches meet Old World cobblestone architecture, New World comforts, and signature Latin hospitality, culture and sultry vibe.
Puerto Rico
's capital San Juan is a major cruise port and destination in the eastern Caribbean. Thousands of cruise passengers embark and disembark every year. But don't miss the opportunity to extend your cruise – or visit the island just to explore the island's urban lifestyle and beach resorts in San Juan, as well as the attractions outside the capital.
Following Cuba's revolution in the 50's, Puerto Rico became the heart of island Latin style for America's jet set, and many of the island's most memorable urban beach hotel-resorts in date from that sexy, Rat Pack era. Newer boutique hotels have added more ways to stay and play in Puerto Rico's capital.
Lynn Elmhirst,
BestTrip TV
's producer, host and cruise expert, picks three of her favorite San Juan hotels from her latest cruise trips to Puerto Rico.
Fairmont El San Juan Hotel
Whether you love Old Havana and colonial style, rhythms and cocktails, Mid-Century modern Rat Pack vibes, or contemporary luxury urban resort lifestyle on one of the world's top tropical beaches... the Fairmont El San Juan Hotel fits the bill.
This sprawling hotel on San Juan's 2-mile-long Isla Verde beach – one that's been voted 'Best Urban Beach', is a recent addition to the prestigious, luxury Fairmont portfolio.
But this urban hotel has a pedigree. Considered by many the 'grande dame' hotel of Puerto Rico society, the El San Juan underwent a $65-million post-hurricane reno and upgrade that restored the best of its colonial architecture, Rat Pack era cool, and added modern, urban resort touches with the Latin flavour of its surroundings.
Watch the video above to see this captivating time capsule beach hotel that's also one of the best places in Puerto Rico for a pre or post-cruise stay, family vacation, wedding or vow renewal.
Better yet, book a vacation to experience Fairmont El San Juan's beach lifestyle, sexy, interconnected pools, breezy outdoor teak spaces, one of the largest chandeliers in the world above one of the most famous bars in the Caribbean, even the hotel's famous, 200-year-old banyan tree.
La Concha
Where the Fairmont El San Juan Hotel melds Old Havana, mid-century, and contemporary design hotel, La Concha is all mid-century beach chic re-imagined for the 21st century.
Right on Ashford Avenue in the heart of San Juan's 'it' Condado neighborhood with expansive beach front, La Concha is one of the island's iconic hotels, dating back to the heyday of Puerto Rico as a 'jet set' destination.
Its namesake is its standout feature: a gigantic, seashell-shaped 'floating restaurant' at the edge of the sea. Not only a marvel of engineering and design, being inside the 'shell' space makes any meal memorable and a special event like a wedding, absolutely epic.
The curves of the giant shell feature are unmistakably from the mid-century school of modernism. The architects continued tropical modernist features throughout the property, in the form of curves and breezeways, an open lobby and seamless transitions between indoors and outdoors, even a concrete façade that filters sunlight to create patterns mirrored indoors.
Also benefitting from a recent renovation, La Concha has kept its mid-century bones and added ocean-inspired hues and beach-inspired textures, lounges and patios kept throbbing with electronic dance music by local DJ's, resulting in a completely modern urban beach resort, nightlife destination, and 'Latino Chic' lifestyle in a stylish setting few modern hotel builds can match.
O:LV Fifty Five
Around the corner in San Juan's chic Condado neighborhood from La Concha, O:LV Fifty Five is a jewel of a boutique hotel where Old Hollywood glamour meets modern design hotel.
Since it's recent opening, it has made the lists proclaiming "Top Places to Travel", "Best New Hotels", and "Finest Hotels" among others.
This adults-only, 26-suite hideaway on a quiet side street overlooks Condado Lagoon from what must be one of, if not the best rooftop destination in San Juan. A cooling green wall and fountains form the backdrop to the infinity pool with a view on the city.
The lobby feels like the living room of an uber-sophisticated socialite, with plush textures, mood lighting and eclectic touches like a table-top metallic cheetah statue and oversized, black and white photography portraits.
Restaurants at the ground and rooftop levels repeat the concept in their own palettes, with head-turning features like the vintage Rolls Royce – converted into a DJ booth! - parked among tables of diners and guests heading out to the roof top terrace (pictured above).
All 3 hotels are located between Luis Muñoz Marin International Airport, and the San Juan Cruise Port, just outside historic Old San Juan. Whether you're flying in or cruising out, these three very different urban hotel experiences are unmistakable expressions of San Juan's one-of-a-kind hospitality and travel experience.
Start your Trip!
Copyright BestTrip.TV/Influence Entertainment Group Inc or Rights Holder. All rights reserved. You are welcome to share this material from this page, but it may not be published, broadcast, rewritten or redistributed.
Whether you love Old Havana colonial style, rhythms and cocktails, Mid-Century modern tropical, Rat Pack vibes, or contemporary luxury urban resort on a world's top beach... Puerto Rico's El San Juan Hotel fits the bill.
Following a post-hurricane, $65-million reno, this grande dame of
Puerto Rico
society and must-visit destination for visitors to Puerto Rico's capital is back - in spectacular style combining all three eras and captivating your travel imagination.
The El San Juan Hotel alone is worth the trip to this US island territory!
It's ideal as a destination tropical resort for your whole vacation or destination wedding/ vow renewal / business event, or as an extension before or after your Caribbean cruise embarking or disembarking from Puerto Rico; the El San Juan Hotel is 5 minutes from the Luis Muñoz Marin International Airport, 10 minutes from San Juan Cruise Port… and 15 minutes from historic Old San Juan, on 2 miles of Isla Verde Beach that's been voted the Best Urban Beach.
Start your Trip!
Copyright BestTrip.TV/Influence Entertainment Group Inc or Rights Holder. All rights reserved. You are welcome to share this material from this page, but it may not be published, broadcast, rewritten or redistributed.
If you're like me, Spring can never come too soon. And nothing says Spring like new flower blossoms.
This year, treat yourself to an abundance of Spring in one of these famous floral travel destinations.
By: Lynn Elmhirst, Host/Producer, BestTrip TV
Tulips in the Netherlands
Where: Keukenhof Gardens and surrounding tulip fields
When: April
It's the world's largest spring flower garden. The
Keukenhof Gardens
are a showcase for the Netherlands' biggest agricultural export: flowers and bulbs. The tulip is the ultimate symbol of a Dutch spring, and there are an astounding 7 million bulbs – tulips and other spring flowers - bursting into bloom on the 80 acres of castle grounds at Keukenhof. Open just a few weeks every spring, Keukenhof is a gardener's dream: themed garden plots and pavilions, an windmill you can climb for a viewpoint over acres of surrounding tulip fields in bloom, boat rides in canals lined with never-ending blossoms.
You can also order bulbs of the blooms you can see at Keukenhof; they'll be shipped to you ready for planting in the fall.
WATCH VIDEO, TOP: THE WORLD'S LARGEST SPRING FLOWER GARDEN ON AN AVALON RIVER CRUISE
Also Find Tulips at:
The Ottawa Tulip Festival, Canada
There's a Dutch connection to this flower festival in Canada's National Capital. During the Second World War, the Dutch Royal Family took refuge in Canada's capital, and a royal baby was even born on Canadian soil, as overseas, Canadian soldiers led the liberation of the Netherlands. In thanks, after the war, the Dutch sent tulips. 100,000 tulips, and tens of thousands more each year since. The mid-May
Ottawa Tulip Festival
is not only a symbol of Spring, it's a symbol of peace and cooperation between nations.
Chelsea Flower Show
Where: London, England
When: 5 Days Late May
This might be the most famous flower and landscaped garden show in the world. Members of the British Royal Family join garden lovers from around the world at the 11-acre site of the Royal Horticultural Society's annual love-in of traditional, trend-setting and even avante-garde flowers and gardening. You'll see glorious displays of beautiful and also rare spring flowers, floral exhibits and cutting edge design as well as traditional English gardening that is loved and imitated the world over.
The
Chelsea Flower Show
is the perfect place to buy English gardening tools and gifts for yourself or your friends at home.
Japanese Cherry Blossoms
Where: Japan
When: Peak season on Japan's main island is early-mid April
The Japanese don't just have a word for cherry blossoms: 'sakura'. The also have a word 'hanami' that means to view the cherry blossoms. It's a tradition that dates back a thousand years or more, originating with the Imperial Family and continuing today for all Japanese. It's one of the most festive times of the year, when Japanese gather with friends, family and colleagues under cherry blossom trees filling parks, surrounding historic castles, temples and shrines, and lining riverbanks, drinking sake and picnicking under the trees long into the twinkling evening hours.
It's not just the stunning beauty of clouds of white and pale pink blossoms hovering overhead; the Japanese also view short-lived cherry blossoms as a poetic symbol of the fleeting nature of life itself.
Also Find Cherry Blossoms in:
Vancouver, British Columbia
An estimated 50,000 blossoming cherry trees line streets and grace parks from February all the way through April, including the city's famous urban Stanley Park. The
Vancouver Cherry Blossom Festival
is held every year for most of the month of April.
Washington DC
America's capital has a glorious annual reminder of the thousands of cherry blossom trees given by Japan to the US in the early 1900's as a sign of friendship. Famously lining the shore of the Tidal Basin, DC's cherry blossoms are celebrated annually during the
National Cherry Blossom Festival
from mid-March to mid-April.
Texas Bluebonnets
Where: Throughout the state, especially the City of Ennis and its 'Texas Bluebonnet Trail'
When: April
This wildflower is the state flower of Texas and believed to be named from its resemblance to a pioneer sunbonnet. Bluebonnets are actually several varieties of lupins. They thrive in lesser soil and so line roadways as well as fill public lands and pastures.
The city of Ennis, south-east of Dallas-Fort Worth, is the official home of the bluebonnet, with over 40 miles of flower-bedecked roadsides, as well as an annual
Festival
. The Texas highway department not only delays roadside trimming so people can enjoy the spring bloom, its early officials were instrumental in encouraging these wildflowers to thrive. Today, they still plant about 30,000 pounds of wildflower seed each year, contributing to the preservation of Texas' native vegetation.
Also Find Lupins:
In Canada's maritime provinces of Nova Scotia, New Brunswick and Prince Edward Island.
The lupins you'll find growing wild in Canada's eastern provinces are a larger variety than Texas bluebonnets, and although they're more purple-y blue as well as pink and white, they're an equally cheerful sign of spring. Well, actually early summer. The cooler climate means peak lupin season here is late June – early July.
Azaleas in America's South-East
Where: Gardens throughout the region and especially: Magnolia Plantation and Gardens, South Carolina
When: Throughout April
Azalea shrubs originated in Asia and were successfully taken to many places in the world. But in America's south-east, they've gained a special place as an iconic garden favorite and symbol of gracious Southern living. Unlike other spring blooms, they're quite long lasting, spreading joy for weeks of the season.
Many public and private gardens have a spectacular spring showing of azaleas, but special mention goes to Charleston's
Magnolia Plantation and Gardens
. The former rice plantation dates from the 1600's, and is the oldest public gardens in the U.S, opening its doors in 1870 to visitors who wanted to enjoy its thousands of cultivated flowers and plants. The less-formal, 'Romantic' style garden is not only on the list of one of 'America's Most Beautiful Gardens'. Magnolia was also the first garden in the country to plant azaleas outdoors, in the 1840's.
Today, hundreds of thousands of azaleas bloom in flame pinks, oranges and reds, lining paths and lakes in a breathtaking spring bloom.
Start your Trip!
Copyright BestTrip.TV/Influence Entertainment Group Inc or Rights Holder. All rights reserved. You are welcome to share this material from this page, but it may not be published, broadcast, rewritten or redistributed.
The motto of New Orleans is 'Let the Good Times Roll'. Nowhere is that more true than at the local Ritz-Carlton, which now boasts the area's first permanent champagne vending machine.
This classy, tongue-in-cheek interpretation of lobby fixtures in sadder hotels holds 320 'piccolo' (mini) bottles of liquid celebration, and blends right into the hotel's festive seasonal décor and events.
A nearly life-sized gingerbread
NOLA
streetcar dominates the lobby, with festive gingerbread making and decorating events throughout advent for the young and their grown up family members who want to sip while they decorate.
Christmas Eve 'Reveillon' feasts throughout December pay tribute to New Orleans' and
Louisiana's
French founding residents, along with 'Papa Noel' teas and breakfasts, and a Christmas Day 'Jubilee' extravaganza.
As exciting as those are, it's the New Year's Eve 6-course masquerade dinner and ball in partnership with iconic champagne brand Moet et Chandon, that tops out the festive season with champagne taking center stage.
And before New Year's is even over, the Mardi Gras carnival season in New Orleans has already begun.
With a full calendar of festivals and celebrations, never-ending good times really do roll one into another in New Orleans. The city's 24-hour alcohol serving times plus relaxed policy towards carrying your drinks into the street (a couple of restrictions do apply: only in plastic cups and only in the French Quarter) make the Ritz-Carlton's lobby champagne vending machine not only festive but even practical.
So whatever celebration brings you to New Orleans, you can let your good times roll in the Big Easy anytime with an elegant bubbly and a hotel home base on Canal Street just a block from Bourbon Street at the edge of the French Quarter.
Start your Trip!
Copyright BestTrip.TV/Influence Entertainment Group Inc or Rights Holder. All rights reserved. You are welcome to share this material from this page, but it may not be published, broadcast, rewritten or redistributed.
New Orleans is home to one of the world's greatest parties.
Like other Carnival celebrations, Mardi Gras grew from the Christian practice of feasting and celebrating on 'Mardi Gras' – which means 'Fat' Tuesday - on Shrove Tuesday, just before the solemn fasting of the 40-day pre-Easter season of Lent.
The actual dates differ every year. Shrove Tuesday can happen during February or early March, and Carnival season begins immediately after the 12th day of Christmas, continuing up to the Eve of Ash Wednesday, when Lent begins.
Other places in the world celebrate pre-Lent, too; you've probably heard of famous Carnivals in Venice, the Caribbean, in Rio and elsewhere. But New Orleans' Mardi Gras has its own unique character. The city's French-Creole heritage and culture and cuisine, steamy Southern climate - and oh, that famous local jazz! - make Mardi Gras one-of-a-kind.
Thousands of people from North America and around the world flock to Mardi Gras. Here's how to celebrate in true N'awlins style:
Feast on Fat Tuesday Food
Fat Tuesday is the one day of the year when eating fried foods is a virtue. No dieting on Mardi Gras! Sink your teeth into some of the best Creole dishes New Orleans offers. To get that local flavor, order anything on the menu with crawfish – a classic crawfish boil, crawfish bisque, or the iconic crawfish etouffee, which means 'smothered', with the local crustacean coated in a rich creamy Louisiana-seasoned sauce served over rice.
Iconic Creole stews gumbo or jumbalaya are a must while you are in Louisiana. For feasting on the run, a local muffuletta sandwich is the best best on the menu: where the special ingredient, olive salad, binds cured meats and cheeses in sesame dinner rolls.
Indulge your sweet tooth with the local version of beignet – or as you might call it: a traditional-recipe donut.
A Mardi Gras special sweet treat is King Cakes, often a brioche/raisin bread type ring topped in official Mardi Gras colors of green, gold and purple, and with a hidden bean or even baby Jesus statue inside. Whoever gets the bean, becomes the next Mardi Gras 'king', or party host.
Have a Ball
Krewes are social clubs of New Orleans' residents that date back to the 19th century, established to organize the famous Carnival parades and masked balls. Most major krewes follow the same parades schedule and route annually. These days parades are too oversized to take place inside the famous French Quarter. But they still rouse up enthusiastic spectators and toss trinkets into the crowds, including 'doubloons' – replica coins often stamped with a krewe logo – and of course beads, the symbol of New Orleans Mardi Gras decadence.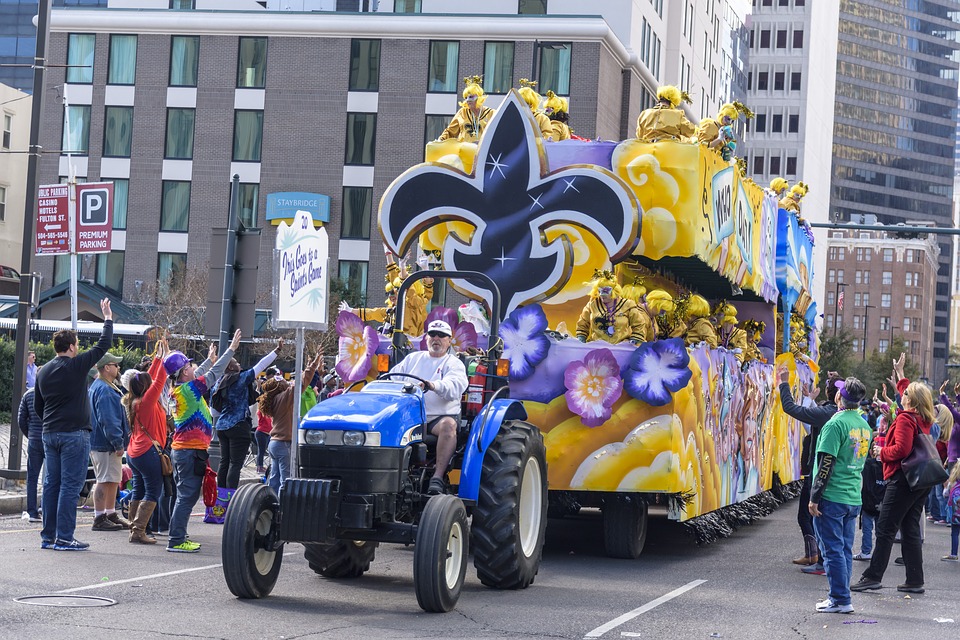 Play Dress Up
There is no Mardi Gras without the costumes. This is not a time for subtlety. Sparkles and matching headgear and masks are the order of the day, especially in Mardi Gras' traditional colors of purple, gold and green. New Orleans Mardi Gras may lack the baroque elegance of Venice or the throbbing sensuality of bikinis and samba in Rio, but dress up you must. Mardi Gras costumes span everything from black tie at private balls, to mutant octopus costumes and Elvis impersonators, jokers and mythological figures in a surreal whirlwind of excitement.
And Dress Down
It's easy to blame the current younger generation and TV shows featuring bad behavior for the decadence of topless party-goers at Mardi Gras. But semi-nudity and even cross-dressing have a long history with the Carnival in New Orleans, at least back to the 19th century. Women flashing from balconies in the French Quarter have long been documented crowd stoppers. The beads-for-baring-them motif is all part of the unrestrained party ambiance of Mardi Gras.
Feel the Music
Any time of the year, New Orleans is one of the greatest music capitals of the world, the birthplace and home of jazz. Mardi Gras takes music to another level in the city, and even more than usual to the streets, where jazz music and brass instruments are joined by the latest beats and rhythms. You won't be able to resist dancing in the streets, at parties, in hotel lobbies, at of course at any ball you are lucky enough to be invited to attend.
Start your Trip!
American Writers Museum is the newest addition to the city's Cultural Mile. It is the first and only museum of its kind celebrating the US literary scene and the men and women who captured and shaped American culture, point of view, history, lifestyle and language through pen and ink.
From Mark Twain to Harper Lee, John Steinbeck to Jack Kerouac, Dorothy Parker to Dr. Seuss. Authors, poets, songwriters, novelists from the earliest moments of American history articulated a unique American Voice and created the literary masterpieces that reflected generations of America to itself and the world - even its children.
Whether you're a bookworm or aspiring author, or even at the age you're still learning the alphabet, the museum's galleries, interactive exhibits, educational programs, and special events will delight you. The interactive, high-tech museum showcases the personal stories, creative processes and literary works of America's diverse range of wordsmiths.
You can explore many of America's great writers' hometowns in Writers Hall. The American Writers Museum has collaborated with dozens of authors' homes and museums around the U.S. These are now American Writers Museum Affiliates that will support the museum with author-specific knowledge and expertise, and foster an exchange of ideas and experiences to support the preservation and celebration of America's literary history across the country.
How many American writers do you know? And how do you define 'writer'? In a Nation of Writers you can learn about and celebrate authors who are emblematic of a unique American Voice, across history, genre, and mediums, from poets to sportswriters.
How do you write the 'Great American Novel' or pen a song that moves a generation? Exhibits de-mystify famed writers' works and methodologies and invite you to practice your own verbal creativity with games and other immersive experiences.
The Chicago Gallery delves into the great writers, literary influencers, characters, and groups that shaped the city's unique literary tradition. And Readers Hall hosts films, talks, readings, workshops, and author signings to school groups, members, and a broad range of audiences.
You won't want just a single visit to Chicago and this new landmark on its rich cultural scene.
Rotating exhibits will keep this celebration of the written word fresh. One of the museum's opening exhibits is The Kerouac Scroll. The writer who brought the 60's beat generation to life in the modern classic On the Road, Jack Kerouac reportedly typed the 120-foot paper scroll in three weeks, after years of planning and early drafts. It's a story not just of the creation of the work, but a symbol of the 60's flower children's characteristic rejection of societal norms.
If you love the written word, you'll love visiting Chicago's new American Writers Museum - and hopefully even be inspired to put pen to paper yourself.
Start your Trip!
Copyright BestTrip.TV/Influence Entertainment Group Inc or Rights Holder. All rights reserved. You are welcome to share this material from this page, but it may not be published, broadcast, rewritten or redistributed.
Dust off your fringed vest and tie-dye T-shirt.
It's been 50 years since 100,000 young people converged on San Francisco in the summer of 1967. The celebration of 1960's counterculture music, fashion, art and anti-establishment rebellion in hippy Haight-Ashbury neighborhood that year became the epicenter of the cultural phenomenon that became known as the Summer of Love.
Photo Credit
The peace and love code of the 'beat generation' echoed the psychedelic rock ballads seizing the airwaves. The song 'San Francisco (Be Sure to Wear Flowers in Your Hair)' became a hit that year, and local Haight bands like the Grateful Dead, Jefferson Airplane and Janis Joplin joined in the utopian experiment and gave it a celebrity face. They provided the soundtrack of the social revolution that spread in popularity across America and around the world and cemented San Francisco's Haight Ashbury in counterculture history.
Photo Credit
For the beat generation, it was about more than just the Sex, Drugs and Rock 'n' Roll. They were the fuel for the questioning of authority, and a search for awareness, social justice, equality, civil rights, sexual liberation, freedom, anti-materialism and environmentalism that still resonates for us today.
There are still hippies in the neighborhood, and their sons and daughters fly the flag of the generation that followed Timothy Leary's call to 'Turn on, Tune in, Drop out'.
Photo Credit
The Summer of Love never left San Francisco, where the spirit of openness and innovation it called for lives on ironically – or inevitably? – next to the extraordinary wealth and full-throttle capitalism of nearby Silicon Valley.
Haight-Ashbury is in the process of receiving city landmark status recognizing its significance during the counterculture movement of the 1960's as the epicenter for hippies and the anti-establishment lifestyle.
Photo Credit
The neighborhood and the entire city are celebrating the 50th anniversary of the transformative Summer of Love with a year-long calendar: exhibitions, lively festivals, special events and music and dance performances looking back at the summer of 1967 and exploring what that period meant then and now. Plus a range of service and volunteerism events inspired by the original Summer of Love.
Photo Credit
Check out San Francisco Travel's special website, www.summeroflove2017.com, for a guide to the whole groovy scene, plus tours that follow the footsteps of great musicians like Jerry Garcia, Janis Joplin and Jimi Hendrix.
Some highlight exhibitions and events include: (Top Photo Credit)
Dec. 9, 2016-Fall 2017 Monterey Regional Airport: "Feeling Groovy," Art at the Airport
April 8-Aug. 20, 2017 de Young Museum; Summer of Love: Art, Fashion and Rock & Roll
April 26-Aug. 27, 2017 "Summer of Love: Jimi Hendrix" at the Museum of the African Diaspora
May 12-Sept. 10, 2017 California Historical Society; "On the Road to the Summer of Love"
June 24-Oct. 1, 2017 Asian Art Museum: Flower Power
July 2017-Sept 2017 San Francisco Public Library: 50th Anniversary of Love and Haight
June 8-Aug. 10, 2017 Psychedelic Soul: Black Cultural Awakening during the Summer of Love in San Francisco, 1965-1969
July 27-29, 2017 Revisiting the Summer of Love, Rethinking the Counterculture: A Conference on the 50th Anniversary of the Summer of Love
Photo Credit
Load up your hand-painted micro-bus (or book a flight) to re-live the Summer of Love this year, but don't forget, 'if you're going to San Francisco, be sure to wear some flowers in your hair'. What a trip!
Copyright BestTrip.TV/Influence Entertainment Group Inc or Rights Holder. All rights reserved. You are welcome to share this material from this page, but it may not be published, broadcast, rewritten or redistributed.
Summer in Maine defines coastal living. Wood-siding summer homes in nautical colors along miles of beaches begging for you to stroll and dig your toes in the sand, examine shells and driftwood, inhale the cool Atlantic breezes, walk the dog among sandy dunes, and of course, enjoy the sea.
Maine is blessed with some of the most beautiful beaches in the US, and by mid-summer, they've warmed up enough to beckon swimmers off the sand and into the waves. Here are five beaches you just can't miss on a trip to New England.
1. Old Orchard Beach.
Start with this seven-mile strand that has been welcoming visitors for over 170 years. It has the only beachfront amusement park in New England. You can even reach Old Orchard Beach aboard the Amtrak Downeaster, which stops just steps away from the beach. The 500-foot classic pier is a powerhouse of family entertainment with shopping, arcades, dining, nightlife and concerts and even fireworks!
Photo credit
It's also the point of departure for fishing, whale watching, and birdwatching tours.
2. Scarborough Beach State Park
For those seeking a little more tranquility, Scarborough Beach State Park has waves that attract local surfers and a wide beach that's ideal for families. Scarborough Beach offers some of the best swimming in New England with water temps in the high 60's through out July and August.
Photo credit
It's also the nesting grounds of endangered Piping Plovers; visitors help protect them by following bans on dogs, bikes and kite flying April through November.
3. Ogunquit Beach
This beach (pictured top) is ranked among the top beaches in the United States, great for swimming, bodysurfing, and searching for shells and driftwood. It's a 3 ½ mile peninsula of sandy beach and grassy dunes; a natural barrier between the Atlantic Ocean and the Ogunquit River. (There's a footbridge across the river at the midsection of the beach).
You can rent chairs, umbrellas and floats, launch a small boat at the boat ramp, and stroll along Marginal Way, a mile-long cliff walk that extends along the ocean, and pass Marginal Way Lighthouse en route.
4. Goose Rocks Beach
The picturesquely-named beach at Kennebunkport is a wide beach with three miles of soft sand and moderate surf. A barrier reef offshore known as Goose Rocks, visible at low tide, helps protect the soft, white sands of the beach.
This is a perfect spot for you to spread out the beach blankets, chairs and umbrellas for a fun day of sunbathing, relaxing, swimming and combing the shore for sand dollars. An ideal relaxed family day at the beach.
Photo credit
5. Popham Beach
Finally, Popham Beach is a wilder beach in Midcoast Maine. It's part of Popham Beach State Park, one of Maine's rare geologic landforms. The Kennebec and Morse rivers border each end of the long stretch of sandy beach. From the beach, you can see offshore islands, such as Fox and Wood Islands, where you can explore at low tide. You can even get a geologic tour of the beach.
Start your Trip!
Copyright BestTrip.TV/Influence Entertainment Group Inc or Rights Holder. All rights reserved. You are welcome to share this material from this page, but it may not be published, broadcast, rewritten or redistributed.
The inspiration we get from the new spaces we experience is one of the reasons we travel. It's even better when we can translate that inspiration from our travels into our own homes.
Karen Sealy is principal designer of Sealy Design Inc. and TV design expert on Cityline. She's also an avid traveler, who shares her love of travel and design expertise with us. Here's her take on stunning 'Fifth Walls' and how you can take that travel inspiration into your own home.
Ceilings can create the overall feeling of a space as much as, if not more than, many other decorative details. Truly inspired design includes ceilings as a 'Fifth Wall'. Too often, it's more like a 'Forgotten Fifth Wall'. So many ceilings end up with default crown moulding – not very inspired! Here are some of the most inspired 'fifth walls' I've encountered on my travels, and how you can take these uplifting design tips from magnificent places you can visit… into your own home.
Fallingwater, Pennsylvania
Frank Lloyd Wright's architectural masterpiece Fallingwater was once a private home, but is now a destination preserved for future generations of design lovers to visit. It is an entire lesson in the use of ceilings to set the atmosphere of a room.
(Photo Credit)
Cathedral ceilings create a sense of grandeur and openness, perfect for great rooms or other large spaces, but used in a smaller space where you might want a cozier appeal it will feel like you are sitting in an elevator shaft. Frank Lloyd Wright famously used ceiling heights to create moods. It's not always about lofty ceilings. In many cases, lowering the ceiling to offer a space to rest was a design device he used to make people in the space feel safe and secure.
Frank Llyod Wright's Fallingwater- Living room, looking south. Photo: Robert P. Ruschak, courtesy of Western Pennsylvania Conservancy
As someone who has always been inspired by Frank Lloyd Wright's design it struck me how different it felt to be at Fallingwater, rather than to just see it in print. Even large open rooms had a sense of intimacy and the entire space worked as a cohesive unit as you moved from one space to the next. I adopted many of these techniques in my own home. Opening the ceiling in the living room and adding wood clad collar ties, with subtle lighting above created drama and interest and then in the neighbouring dining area, I specifically lowered the ceiling over the wrap around banquette to create an intimate area for lounging and conversation.
King Edward Hotel, Toronto
There's been a great revival of the coffered and tray ceiling. We often associate these details with a more traditional aesthetic (which is where these ceilings have their roots) but modern choices, such as linear, less "fussy" details and painted versus natural wood, work in most transitional homes.
This ceiling (top photo and below) in the historic King Edward Hotel, in Toronto, is majestic and elegant, and even feels current. By painting it white it has a more reflective quality that bounces light from the both the magnificent, traditional chandeliers and the very modern uplights creating an airy and ethereal feeling.
It's a great example of achieving the best design by creating tension between elements. Imagine you've bought a lovely century house with beautiful coffered ceilings and while you want to honor the history of the home, your personal taste is more modern. How do you marry these things successfully? In broad strokes, my trick is to keep (or even add) more authentic primary components of the house, such as: restoring the original baseboards, doors, ceiling details, architectural features… any part of the house itself. Then the way you fill the house, such as: lighting details; furniture; cabinetry; plumbing fixtures can be more modern.
Of course playing with this formula also allows some creative license that can create some very dramatic spaces like the King Eddie ballroom. Aside from dramatic effect, functionally speaking coffered or tray ceilings can offer some practical purposes to like providing a clever way to hide structural beams, ductwork or plumbing. These also serve to delineate zones in open concept spaces.
Hawksworth Restaurant and Bar, Rosewood Hotel Georgia, Vancouver
The ceiling at Hawksworth cocktail bar feels like a sculptural piece that might have well been inspired by 'starchitect' Frank Gehry. Its organic flow has a feminine appeal that plays well against the very structured masculine clad walls and dark wood floor. But what makes this ceiling really sing, is the use of lighting to accentuate its sensuous folds.
The Pearl Room at the Hawksworth, which is adjacent to the cocktail bar, employs an entirely different ceiling technique. The linear lines created by the applied moulding acts to frame the enormous contemporary crystal chandelier. The color palette in both rooms is the same – rich chocolate brown and cream, so the flow between the rooms works, but the experience is each is unique in large part due to the ceiling design.
We are experiential beings interacting with our built environment. Inspiration is all around us. When you travel around the world or around the block, look around – and up! – for inspired design.
(A version of this article was published previously; Cruise and Travel Lifestyles Magazine).
Start your Trip!
Copyright BestTrip.TV/Influence Entertainment Group Inc or Rights Holder. All rights reserved. You are welcome to share this material from this page, but it may not be published, broadcast, rewritten or redistributed.
It's one of the most loved travel songs of all time. And February 26th, 2017 marked the 40th anniversary of the Eagles' Hotel California. It really was forty years ago, in 1977, the band's most popular song was released as a single from the Eagles' album of the same name, and entered the Billboard Hot 100 charts.
Hotel California quickly won a Grammy Award for Record of the Year in 1978. But it also became a cultural icon for generations since. Its guitar solo is consistently named one of the greatest ever, and the roadtrip song is now in the Grammy Hall of Fame. Want it playing in your head the rest of the day? Here's a link to the Eagle's performing it. (Photo: The Eagles in concert performing Hotel California, 2010 tour in Australia. Photo Credit.)
So where is Hotel California? Well, the album cover art made it pretty clear. It featured a picture of the fabled Beverly Hills Hotel.
Somehow, fans with big imaginations wove conspiracies about a deeper, hidden meaning, but the band members say it's just not so. Don Henley, Glenn Frey, and Don Felder share writing credits for the song, and Don Henley has made it very clear that the song was about 'a journey from innocence to experience... that's all…'
'We were all middle class kids from the Midwest, 'Hotel California' was our interpretation of the high life in L.A.'
The Beverly Hills Hotel is still the essence of Hollywood's luxury pedigree. The Mediterranean Revival style hotel, in its trademark pale pink and green, is one of the most renowned hotels in the world.
Constructed in 1912, in the middle of bean fields where rich polo players used to practice, the Beverly Hills Hotel was built BEFORE that city's existence. The hotel was strategically built on a prominence above the main road, and resembled a palatial, colonial mansion. Each of the rooms has its own balcony and is designed in the Beverly Hills Hotel colors. The Sunroom of the hotel, containing Californian craftsman furniture, provides vistas of the Pacific Ocean.
Polo players were quickly replaced by the cream of Hollywood society: film stars, studio bosses, celebrities, and rock stars. In its earliest days, Mary Pickford, Douglas Fairbanks, Charlie Chaplin, Buster Keaton, Rudolph Valentino, and Will Rogers flocked to the new destination, ultimately building homes nearby.
They transformed the bean fields to one of the most prestigious addresses in the world. The Beverly Hills Hotel is the prime occupant of Sunset Boulevard, in the city that established itself around the hotel, and adopted the hotel's name.
Beverly Hills became a symbol of the glamorous 50's and 60's, and the Beverly Hills Hotel welcomed royalty like Princess Margaret, Princess Grace, and the Duke and Duchess of Windsor, who rubbed elbows with leading lights of Hollywood: John Wayne, Elizabeth Taylor, Frank Sinatra and his Rat Pack, Marilyn Monroe, Lauren Bacall, the Beatles… the list goes on and on.
The Beverly Hills Hotel became known as the 'Pink Palace', with legendary stories emanating from the hotel's guest rooms, bungalows in the 12 acres of gardens, and the Sand and Pool Club, whose white sand was imported from Arizona, and made the pool area look like a beach.
Old Hollywood lives on today. The Beverly Hills Hotel had a100-million-dollar-plus renovation in the 1990's, and more remodeling and restoration for its 100th anniversary in 2012. That year, the hotel was named the first historic landmark in Beverly Hills.
Today, the Eagles' 'Hotel California' is part of the Dorchester Collection of luxury hotels, and guests can still soak in the atmosphere of legendary Hollywood glamour.
Start your Trip!Copyright BestTrip.TV/Influence Entertainment Group Inc or Rights Holder. All rights reserved. You are welcome to share this material from this page, but it may not be published, broadcast, rewritten or redistributed.
10 ways you can cruise to Cuba this year.
One of the biggest travel stories of the past year has to be the renewing of relations between Cuba and the US and the rise of Cuba as a destination for American travelers. Cuba has long been a favorite sun and culture destination for Canadians and Europeans. Only US citizens were prevented from traveling to the Caribbean's largest island.
Now American cruise ships are permitted to sail to Cuba, and late in 2016, Cuba approved a number of US cruise lines' applications to make port calls. A few international cruise lines could always go, and they have increased sailings and itineraries. So cruising to Cuba is one of the biggest travel stories this year.
Canadians and Europeans now have a lot more choices to cruise to Cuba, and Americans now have that cruise option, although they still need a visa. US cruise lines now sailing to Cuba generally facilitate a 'people-to-people' visa for American guests.
BestTrip.TV's cruise expert Lynn Elmhirst rounds up 10 ways you can cruise to Cuba this year.
From single days in port in Havana, to a week or more exploring the island, cruises to Cuba allow you to get a taste or immerse yourself in Cuba's culture, history, and natural wonders.
ALL-CUBA CRUISES
Celestyal Crystal
This Greek line claims to offer the only true circumnavigation of Cuba on 7-day, all-inclusive cruises departing every Monday from Havana, and every Friday from Montego Bay, Jamaica.
Formerly known as Cuba Cruise, this cruise began sailing 3 years ago, and now sails year-round in Cuba on a 1200 passenger ship that was renovated in 2016. They offer the p2p program visa for American citizens.
Itineraries include two days in Havana and various calls including Maria La Gorda, known for its impeccable beachfront and underwater marine life, the perfect destination for scuba divers, snorkeling enthusiasts and beach lovers, Punta Frances on the Isle of Youth, Cienfuegos, an 18th-century fortress, and historic Santiago de Cuba, 16th century capital of the Spanish colony of Cuba.
Ports and shore excursions provide city tours, history, adventure, cultural walking tours, hiking, beach days and snorkeling to passengers of all ages and tastes. This cruise is family-friendly, with a supervised children's program for 4-12 year olds.
National Geographic - Lindblad Expeditions
Lindblad Expedition cruises' partnership with National Geographic means these cruises are for travelers serious about in-depth expertise: photographers, naturalists and cultural specialists join guests on the 11-day trips. These land and sea tours are an extension of Nat Geo's existing land tour programs, and they fulfill the p2p visa requirements for Americans.
Trips begin with a flight from Miami, and include several days in Havana, as well as stops in Trinidad, Cienfuegos, the historic Bay of Pigs, Isle of Youth, and Cayo Largo.
Fewer than 50 guests are on board the Panorama II, a small expedition ship, as it makes ports of call that highlight Cuba's marine and natural wonders and culture, highlighting music, history, and interacting with locals like artists, mechanics who inventively keep those classic US cars running, members of Cuba's renowned medical community, and naturalists protecting endangered species.
Natural highlights include searching for the smallest bird in the world, the bee hummingbird, a visit to a sea turtle breeding center, diving, and lots of wildlife and scenic photography.
G Adventures
Canadian tour operator G Adventures provides a less intense/ serious, and more youthful and affordable version of a Cuba expedition cruise on its 8-day 'marine tour' of Cuba's Canarreos archipelago in a catamaran with only 14 people on the tour. This cruise option is one of several types of trips to Cuba the company offers. Americans are welcome, but need to arrange their own visas.
Cruises start and finish in Havana, and spend 5 low-key, soft-adventure days exploring off-the-beaten-path islands and island communities, with relaxed days of snorkeling, kayaking, sailing, easy exploring, visiting lighthouses, enjoying seafood dinners, and lazing on deck or on the beach.
Pearl Mist
Pearl Seas Cruises (a sister company to American Cruise Lines), offers 10-night 'Cuban Cultural Voyages' that fulfill the American p2p visa requirements. On the 200-passenger Pearl Mist, guests enjoy luxury elements including all private balconies on its 100 staterooms and high-end culinary offerings, but the company also makes sure to point out that there is elevator access to all decks and on board medical for its senior guests.
These cruises run January through April, 2017, and start up again in November. There's a packed program of stops on the island beginning with 2 days in Havana, and other ports include Isla de la Juventud, Cienfuegos, Trinidad, El Cobre, Santiago de Cuba and Parque Baconao.
Guests engage first hand with local tradespeople, artists, musicians and historians at museums, national parks, art studios, architecturally significant homes and UNESCO World Heritage sites.
Photos courtesy MSC Cruises
CRUISES THAT OVERNIGHT IN HAVANA
MSC Opera and MSC Armonia
MSC Cruises, a European company, was one of the first major cruise lines to feature Cuba in its itineraries for its European and Canadian guests. The cruises have been so popular, MSC has homeported 2, 2000-passenger ships, the Armonia and the Opera, in Havana.
Guests spend about 2 days in Havana on MSC itineraries. MSC does not design its Cuba itineraries to meet American citizens' requirements for p2p visas, so guests have more flexible options that include not only historic and cultural attractions, but also beach days in Cuba as part of cruises that also include other Caribbean destinations.
Azamara Quest
Royal Caribbean's smaller-ship, sister brand Azamara has just one Cuba port of call this season: it's added an overnight in Havana to one 12- night Caribbean cruise on the Azamara Quest departing March 21st from Miami with stops in Key West, Tampa, New Orleans, and Cozumel, Mexico as well as Havana.
The cruise line says it's planning to introduce more dates and more Cuban ports, but it already offers an impressive line up of 6 of its signature 'Land Discoveries' immersive destination programs, including Hemingway's Havana and Havana by Classic American Car. The programs fulfill visa requirements for Americans, so this cruise is a destination-focused opportunity for the Azamara Quest's 700 guests to get a taste of Cuba.
Seven Seas Mariner
Regent Seven Seas Cruises is the only North American classic luxury cruise line to sail to Cuba – yet.
It has added Havana to two Caribbean cruises aboard the 700-guest Seven Seas Mariner on April 11th and 18th. The itineraries are identical, with an overnight in Havana as part of week-long cruises that also call on Harvest Cay, parent-company Norwegian Cruise Holding's upscale resort destination in Belize.
Regent Seven Seas cruises are all-inclusive, with fares that include airfare, unlimited shore excursions, alcoholic beverages, WiFi, gratuities and more. Its Cuba tours fulfill US p2p visa requirements and provide guests with authentic Cuban experiences that explore the people, music, art, history and culture of the island.
Norwegian Sky
Norwegian Sky, with 2000 guests, is the largest US vessel sailing to Cuba in 2017. NCL has scheduled 5, 4-day roundtrip cruises from Miami to Cuba on May 8, 15, 22 and 29th.
The cruises overnight in Havana, and also spend a day at Norwegian's private island resort in the Bahamas, Great Stirrup Cay. Norwegian Sky's cruises to Cuba, like some of its others in the Caribbean, include an open bar, so overall, these short cruises will have mostly a party atmosphere.
However, guests will be able to go ashore to visit sites in Cuba's capital, including the UNESCO World Heritage Site of Old Havana, and experience the local art and music scene; engaging with local artists (and fulfilling US p2p visa requirements).
CRUISES WITH ONE PORT DAY IN HAVANA
Marina
Oceania's Marina is the first of the Norwegian family of cruise lines to sail to Cuba. The 1250-guest, upscale ship begins one day or overnight calls in Havana in March, with programming that meets visa requirements for Americans. These 10 day or two week Caribbean cruises depart from Miami in multiple itineraries that also include NCL's new private island resort Harvest Caye in Belize.
Empress of the Seas
Royal Caribbean recently updated and renovated the 1600-guest Empress of the Seas for its Cuba itineraries. Beginning in April, 4, 5, and 7-night cruises depart from both Miami and Tampa on Western Caribbean itineraries with one day in port in Havana. Royal Caribbean's Cuba shore programming allows Americans to meet visa requirements while enjoying Royal Caribbean ship experiences like rock climbing, multiple pools, restaurants, nightlife, and even the Cuban-inspired dance club Bolero.
Cuba is a brand-new destination for Americans, and cruising to Cuba is novel even for Canadians. A travel advisor can help you choose the right ship and itinerary, and navigate the details to ensure your cruise to one of the world's newest cruise destinations is all you dreamed.
Start your Trip!
Copyright BestTrip.TV/Influence Entertainment Group Inc or Rights Holder. All rights reserved. You are welcome to share this material from this page, but it may not be published, broadcast, rewritten or redistributed.
You say: Christmas, the French say: Noel. Paris is always a top holiday escape destination, but the City of Light is not the only place to have a 'Joyeux Noel'.
Here are my other favorite places in the world to celebrate the season with French 'joie de vivre'.By: Lynn Elmhirst, Producer and Host, BestTrip.TV
Provence, France:
In the wondrous South of France, Provence isn't just for summer tans. Winter in Provence is one of the most magical times to visit. There's still sun and fresh air and charming, uniquely Provencal seasonal traditions.
There's the 'Big Supper' on Christmas Eve, culminating in a ritual of 'The Thirteen Desserts', said to represent Jesus and the 12 apostles. Local and family traditions vary, but the desserts often include almonds, figs, dates, and other local fruits and flavors.
My favorite Provencal Christmas tradition is one that visitors can enjoy year round… and even take home as a souvenir or a gift. Santons are small, hand-painted clay figurines (the word is derived from Provencal dialect for 'little saint'). Santons make up table-top nativity scenes, but in a traditional Provencal nativity scene, it wasn't just the Holy Family, three wise men, angels, a shepherd and some farm animals. Traditionally, there were 55 figures that included characters from everyday Provencal life, like a fishwife and a vegetable seller.
Santon-making is a family craft that is still passed down through generations today, and you can buy santons from workshops through the year. Marseille holds a December Santon fair, and there are also children's holiday santon painting workshops.
New Orleans, Louisiana:
Wherever the royal French motif, the fleur de lys, pops up around the world, it's a clue to that area's historic French ties. In New Orleans, the fleur de lys city symbol joins Creole and Cajun dialect, culinary and other traditions in an enduring, beloved, and unique culture. Two of its holiday traditions were originally observed only on Christmas Eve, but these days, visitors can celebrate the season with locals through the month of December.
Photo by Rebecca Ratliff/NewOrleansOnline
Bonfires on the Levee date back to the earliest Cajun settlers. They were set along the banks of the Mississippi originally to light people's way home for the holiday, or to Midnight Mass, or it's said most recently, to light the way for 'Papa Noel' – Cajun Santa Claus. They have become extravagant in size and design, some accompanied by fireworks and concerts, drawing crowds that feast on bowls of hot gumbo and community good cheer. A hundred or more may be lit every year in neighboring parishes, and visitors can take guided scenic tours of the experience.
Reveillon Dinners were also once exclusively on Christmas Eve, following Midnight Mass. Now, instead of dinners starting at 2 am at home, Reveillon ('awakening') dinners are usually family and friends gathered at conventional dinner hours in a restaurant. Dozens of top city restaurants offer Reveillon menus through the month of December, not just on Christmas Eve, so it's easy for visitors to the city to participate in the tradition.
James Beard Award-winning chef Frank Brigtsen of Brigsten's Restaurant is at the forefront of a new generation of New Orleans chefs who are revitalizing Creole/Acadian cooking, creating modern dishes that pay tribute to Louisiana's culinary traditions. He shared his Reveillon Dinner menu recipe for Oysters Bienville, named after Jean Baptiste le Moyne, the Sieur (Lord) de Bienville, the founder of New Orleans.
Brigsten's Oysters Bienville - Makes around 3 dozen oysters
2 Tablespoons unsalted butter
1 cup diced ham (1/4-inch pieces)
4 cups finely diced yellow onion
3 cups finely diced celery
1 bay leaf
1 tablespoon + ½ teaspoon salt
¼ teaspoon ground white pepper
¼ teaspoon ground cayenne pepper
½ teaspoon dried whole-leaf thyme
½ teaspoon dried whole-leaf oregano
2 teaspoons minced fresh garlic
2 cups sliced scallions, white part only
½ cup diced shrimp
2 Tablespoons brandy
1 cup oyster liquor
1 cup milk
2 cups cream
1 cup unsalted butter
1 ½ cups all-purpose white flour
36 oysters on the half-shell
1. Melt 2 tablespoons of butter in a pot over high heat. Add the ham and cook for 3-4 minutes, stirring occasionally.
2. Add the onions, celery, and bay leaf. Cook over high heat, stirring occasionally, until the onions become soft and clear.
3. Reduce heat to low. Add the salt, white pepper, cayenne, thyme, oregano, and garlic. Cook, stirring occasionally, for 1 minute.
4. Add the sliced scallions (white part only). Cook, stirring occasionally, until the scallions become soft, 2-3 minutes.
5. Add the shrimp and cook, stirring occasionally, until the shrimp turn pink, 1-2 minutes. Add the brandy and cook for 1 minute.
6. Add the oyster liquor and cook for 3-4 minutes, stirring and scraping the bottom and sides of the pot.
7. Add the milk and cream and bring the mixture to a boil. Simmer for 3-4 minutes. Remove the bay leaf. Transfer the mixture to a tall container and purée until very smooth. Transfer the puréed sauce back into the pot.
8. Make a blond roux: Melt the butter in a skillet over medium-low heat. Gradually whisk in the flour and cook for 1 minute, whisking constantly. Bring the Bienville sauce to a boil and gradually add the roux, whisking constantly. Reduce heat to low and simmer for 1-2 minutes. Remove from heat. Refrigerate until fully chilled.
9. To serve, preheat oven to 500 degrees. Using a pastry bag, top each oyster on the half-shell with about 3 tablespoons of the Bienville Sauce. Bake at 500 degrees for 15 minutes. Serve immediately.
Bon Appetit!
Martinique, the French Antilles:
It's a little piece of France in the Caribbean. Over the years, residents of the island of Martinique have combined the best of both worlds in their unique local Christmas traditions.
One of the most charming must be the 'Fleurit Noel': the 'Christmas Flower'. This delicate white flowering shrub made its way into local Christmas traditions due to a blooming season that runs December to March. It certainly makes me think of an angel's cloud! It's also thought to cure colds and flu.
Photo: Tourism Martinique
If you travel to Martinique during the holiday season, experience Christmas caroling like you've never experienced it anywhere else in the world. Chante Nwel are get togethers with traditional Martinican holiday cuisine - much of it pork based from a history of households keeping a pig in the backyard and making it the focal point of holiday meals - and singing accompanied by the goatskin tambour bele drum, and call-and-response.
Photo: Tourism Martinique
The carols are collected in a booklet of local versions in Antillean Creole, and you'll never forget the first time you sing - to the tune of 'Jingle Bells' - joyful song lyrics "Gut the Pig", or other unique local twists on traditional carols.
Quebec, Canada:
Quebec City, the cradle of French civilization in North America, is unforgettable. Built over 400 years ago, it is the only walled city north of Mexico, a UNESCO World Heritage site of stone buildings and steep rooftops true to the French architectural style of the day.
Photo: Quebec City
Wandering the streets of historic Quebec City feels like a taste of Europe at any time of year, but during the snowy Christmas season it's truly magical – the city has been voted one of the top 10 places in the world to celebrate the holidays.
The province's biggest French city, Montreal, is Quebec City's slightly younger sibling, celebrating its 375th birthday this year with the tallest Christmas tree in Canada. Quebec is world famous for its music scene; make sure to attend caroling and concerts in both cities during the Christmas season, and do not miss the opportunity to go to Christmas Eve midnight Mass in one of the historic cathedrals.
Photos: Tourisme Montréal. Giant Christmas Tree: Eva Blue. Place St. Jacques: Matthieu Dupuis.
My mother's side of the family is French Canadian, and we follow the tradition of midnight Mass and a traditional 'Reveillon' meal, including tourtiere, Quebec's traditional meat pie, served with pea soup.
Here's my family recipe for you to enjoy during the holidays or any time of the year.
Photo: BestTrip.TV
Lynn's Family Tourtiere Recipe (Quebec Christmas Meat Pies)
Makes 2 pies or 24-30 tarts
3 lbs ground meat (We use 2 lbs beef and 1 lb pork. Some use all pork, or game, or even duck)
2 large onions, grated or finely minced
2 cloves garlic
2 teaspoons salt
1 t thyme
½ t sage
½ t pepper
¼ t ground cloves
½ t allspice
Brown meat with onions and spices til onions and meat are cooked and still moist. Add
1/3 c red wine
2 large potatoes, peeled, boiled, mashed
Mix thoroughly and cook 5 min. Let cool to room temperature.
Mix in 1 egg
Pack into pie or tart shells, top with a pastry cover, cut slits for vents, and
Wash tops with 1 egg beaten with 1 t water.
Cook in pre-heated 410 degree oven til pastry deep golden. Serve hot.
Bon appétit and Joyeux Noel!
Start your Trip!
Copyright BestTrip.TV/Influence Entertainment Group Inc or Rights Holder. All rights reserved. You are welcome to share this material from this page, but it may not be published, broadcast, rewritten or redistributed.
Get the Travel Tips
Get The Savvy Traveler Newsletter
Things we blog about
Places we've blogged about